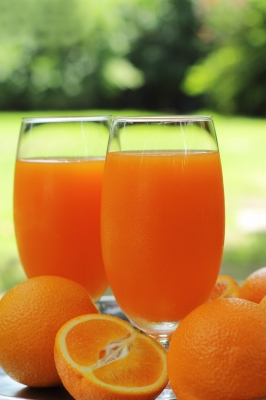 By: Miami Beach Personal Trainer Ted Ryce
"I watched Fat, Sick and Nearly Dead and now I'm juicing all my veges and fruits!" ~Nutrition Fad Follower
Whoa, slow down Speed Racer! Juicing has its benefits but it also has its drawbacks as well. I'm always trying to get my clients to eat more vegetables and many people have heard of the miraculous powers of juicing. However, there are some things you should know to make an educated decision about how you should juice or if you should do it all. In this article, we'll look at the positives and negatives of juicing as well as a way to tell if your juicing plan is making you healthier or putting you on the path to poor blood sugar regulation and getting Type II Diabetes.
The Good
Fresh fruit and vegetable juice can add a lot of high-quality nutrition to your diet, especially if you choose veges and fruits that are low in (or no)  sugar and have a low glycemic index. (NOTE: glycemic Index is a measure of how fast a food raises blood sugar levels. For more information on glycemic index, read my article and check out tip 3).
For example a salad that contains 1 cup of raw spinach, you will get as :
56% Daily Value of Vitamin A
 14% Daily Value of Vitamin C
 3% Daily Value of Calcium
 5% Daily Value of Iron
Contrast that with a glass of raw spinach juice from 10 ounces of raw spinach which contains:
533% Daily Value of Vitamin A
 133% Daily Value of Vitamin C
 28% Daily Value of Calcium
 43% Daily Value of Iron
That's a BIG difference in nutrients!
Another benefit to juicing is that research has found certain nutrients in the carotenoid family are absorbed better when consumed in juice rather than eating.
The Bad
Yes, you get more nutrients but you can also get more sugar as well. For example, if you eat a salad that contains 1 cup of chopped Red Cabbage, you will get 7 grams of carbohydrates with 3 grams coming from sugar and 2 coming from fiber. Fiber will help slow the rise in blood sugar. Contrast that with juicing a small head of Red Cabbage that is about 4″ in diameter. In this case you will get 22 grams of sugar with little to no fiber to slow the rise in blood sugar. It is still better than drinking a can of regular Coca Cola. However, high levels of blood sugar are not what you want regardless of how many other nutrients you will get especially if you are looking to lose fat or already have trouble with blood sugar levels.
Be Smart
So what is the answer?
Be smart about juicing if you decide to do it. Make informed decisions about your juicing instead of listening to some guy in a movie. Seriously, did that guy lose weight because he was drinking juice or because he ate so poorly that any change in the right direction would have gotten him to lose weight? Juice for thought…
If you want sugar-containing juice for a specific reason like having a post-workout shake to recover better from exercise then go for it. If fat loss is your goal, then I suggest you stay away from fruits and sugar containing vegetables. Instead stick to low or no sugar vegetables like raw spinach, raw kale, ginger, dandelion greens, celery and mustard greens.
Monitor Blood Sugar Levels
If you really want to see whether your juicing (and overall dietary strategy) is helping you or not, then check your levels of fasting glucose, fasting insulin and hemoglobin A1C. These tests measure how well your body is processing blood sugar and whether or not you're on your way to becoming a diabetic.
Using these tests that your doctor will administer will show cut through the B.S. and tell you exactly how your body is responding. There is NO argument here as the numbers don't lie. If the numbers are good and consistently good then you are good to go with what you have been doing. If the numbers are not so good and get worse, then nothing anybody says about how great your nutrition plan is matters. Your plan is not working.
Also using a scan (like  DXA) can tell you what your body fat percentage is. Skin fold measurements can help here as well. You can also weigh yourself but using weight is very limited. You want to know changes in body fat and weight simply doesn't give you this information. I personally use weight as one of many metrics I use with my clients.
Quick Tips for Juicing:
Stick to juicing mostly green, leafy veges with low or no sugar. Examples include raw spinach and raw kale.
Avoid fruits unless you specifically want the sugar and calories e.g. post-workout drink
Drink juice in the morning and after a workout when your metabolism is higher
Drink juice with a meal containing lean protein and healthy fats.
Drink juice in a protein shake. Example: add a scoop of pea protein and a tablespoon of organic olive oil to your juice
Track markers of Carbohydrate Tolerance like fasting glucose, fasting insulin and Hemoglobin A1C to make sure your blood sugar levels aren't being negatively affected by your juicing
Conclusion
Juicing can be beneficial or it can potentially lead to gaining fat and poor blood sugar levels. Make sure you do research and find out the nutrition information of the vegetable and/or fruit you are juicing so you can avoid excessive quantities of sugar unless you specifically want the sugar. Check out this website to see nutrition information on various quantities of vegetables and fruits so you can be smart about your choices. Make sure you drink higher carbohydrate juices in the morning or after a workout or avoid them all together if fat loss is your goal. Make sure you get regular blood work and have a qualified health professional examine it to make sure your current dietary practices are not negatively affecting your blood sugar levels.
Resources
Image courtesy of
/
FreeDigitalPhotos.net