Today's issue is brought to you by Legendary Life Coaching. We help busy executives, entrepreneurs, and other high-performers burn fat and feel younger while growing their businesses or careers and taking care of their loved ones.
If you're ready to boost your energy, have the body you deserve, and say goodbye to time-consuming workouts and crazy diets, we're taking on 5 clients for October. If that's you, click the link below to get started:
​
Click here to sign up for a 15-Min Strategy Call
A few months ago, my business partner and I paid $15,000 to meet with a rockstar coach to go over how we could take our coaching program to the next level.
Gisele and I were expecting to learn business strategies and ways of coaching our clients to greater success.
We got those.
But the first lesson he started us with was this…
Strategies and tactics don't matter as much as how we're showing up.
And this is true for everyone – regardless of their goals.
So many clients come to us expecting to learn some new nutrition and workout strategies.
And they get them, of course.
But if permanent transformation of your health is the goal, the most important question you must ask yourself is this:
"Who must I become to lose the weight for good and never gain it back ever again?"
Answer this question and take action on what comes up and you'll be on your way to a true transformation!

Here is your Unstoppable After 40 Friday Digest:

1. How to speed up muscle recovery naturally
In one study, this dose of blueberries significantly increased recovery after a tough workout. You can add these to a shake or a Greek yogurt bowl.
The study found that isometric leg strength markers of oxidative stress were lower in the blueberry group versus the placebo group.
The participants actually had three 200-gram servings the day of their workout and one serving in the morning for two days after their workout.
I think that's overkill unless you're doing some type of intense sporting event.
Just shoot for 200 grams of blueberries or 22g of freeze-dried blueberry powder per day and pay attention to see if you notice faster recovery.
2. Fat loss hack that no one talks about
I often say that the #1 fat loss hack is creating a life that you don't need to use food and alcohol to escape from.
Too many people think that "discipline" is the key to fat loss.
And there's truth to this.
But I don't see a lack of discipline in the executives and entrepreneurs I work with.
I do see a lack of scheduled downtime where they're doing something they enjoy that doesn't involve eating or drinking.
Engaging in relaxing activities or hobbies allows the brain to switch gears, releasing stress and reducing the risk of burnout.
And the key reason why people don't stick with their fat loss plan is stress.
So schedule something fun in your agenda every week and watch how it's easier to stick with your health goals.
Resource: The Magic Ratio for Happiness: Rewiring Your Brain for Positivity
3. How to prioritize your health this year
Blood testing isn't just a tool—it's a game-changer. Think of your health like a business: the real insights come from the numbers. Especially as we age, focusing only on financial success isn't enough. After 20 years building your empire, you'll want to actually enjoy it in your golden years.
Trust me, I've been there. After facing family tragedies for 30 years, at 45, I shifted my focus to longevity and health optimization. Dive deep, like I did, and you'll find that much of what we think about fitness, especially for those over 40, is off-mark.
It's not just about diet and workouts. I now analyze blood biomarkers to craft personalized health blueprints for my clients. Beyond just fitness, I assess their overall health, lifestyle, and recovery. With the right data, I ensure they achieve consistent results in less time. Prioritizing your health is key to becoming unstoppable after 40.
Legendary Life Coaching Client Highlight: Jeff C.
Jeff (44 years old) slashed 29 pounds of fat while eating the foods that he loves and enjoys social gatherings and vacations with zero guilt.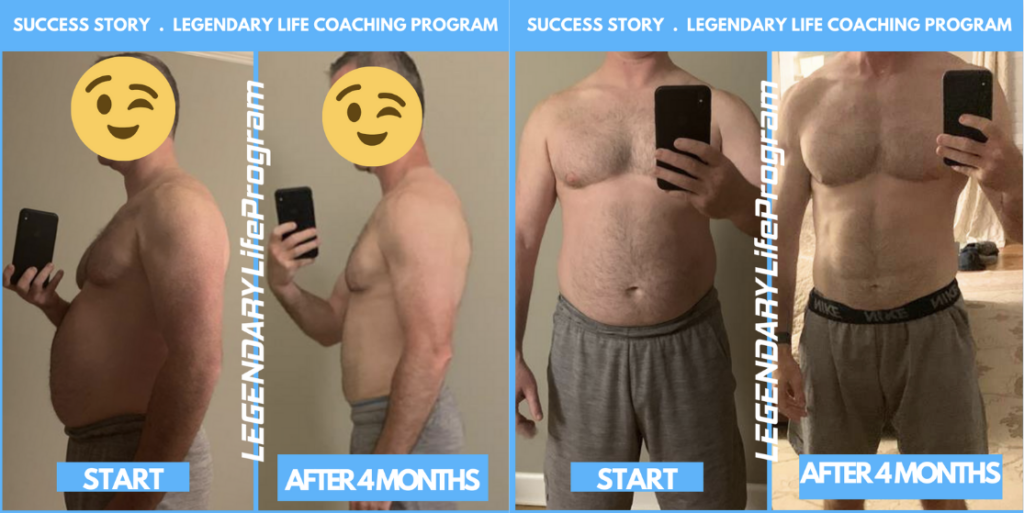 Jeff, like many high-performers, was thriving in business but struggling with fitness. Despite CrossFit, cardio, Keto, and intermittent fasting, results were little.
Then, he joined my program, and we deep-dived into his health—analyzing blood work, metabolic and gut health, lifestyle, and more. With this data, I tailored a blueprint just for him.
The result? Jeff shed 30lbs in 4 months, supercharged his health, and built muscle 3x faster.
Best of all? He now eats his favorite foods and attends social meetings and gatherings without worrying about what he is eating or drinking. It's not just about hard work—it's about smart, personalized strategies.
If you're a high achiever who wants to lose fat and transform your body while thriving in business or career, click here and schedule a 15-min strategy call with us.
Question For You
There are 93 days left in 2023. What will you do with them?
Does that tell you anything about how you should be spending your time today?
Want to share this issue of Unstoppable After 40 via text, social media, or email? Just copy and paste this link:
https://www.legendarylifepodcast.com/unstoppable-after-40-the-weight-loss-hack-that-no-one-talks-about-how-to-speed-up-muscle-recovery-naturally-and-how-to-end-this-year-stronger
​
Until next week,
Ted Ryce
Celebrity Trainer, Health & Wellness Coach & Longevity Expert