Exactly two weeks ago, I got back from my trip to Cancun, Mexico and I can easily say that it's one of the best trips I've ever been on!
If you've been listening to the podcast for a while, you know I'm a HUGE advocate of traveling.
One of my favorite quotes is:
[tweet_box design="box_16_at" float="none"]"Travel is the only thing you buy that makes you richer."[/tweet_box]
Traveling to exotic locations, experiencing different cultures and going on adventures will change the way you think about and perceive the world.
It's also one of the most powerful ways to enter a flow state—the state of mind and body where you feel and perform your best.
These are moments in which your mind becomes so entirely absorbed in the activity that you "forget yourself" and begin to act effortlessly, with a heightened sense of awareness of the here and now.
If you like to learn more about the importance of flow states, make sure you check out my interview with Steven Kotler on episode 84.
Simply put, traveling puts you "in the zone".
Pre-Travel Blues
Unfortunately, what lead up to us finally taking a vacation wasn't pleasant. Usually, we take trips that also involve a seminar or some business aspect. This time we knew we needed a vacation after everything we went through from the end of 2016 to July of 2017.
Gisele and I were in pretty bad shape after dealing with my back injury, my trip to the ER and insomnia episodes, then the death of Gisele's dad after a month's long battle with cancer.
On top of all that, we still had a business to run and I had clients to coach and train.
We were burnt out emotionally and physically from all the stress and we needed a break from it all!
After looking at our options and our budget, we found a great deal for 6 nights at the all-inclusive Now Sapphire Riviera Cancun resort.
We bought it, packed our bags and embarked for 6 nights of exploring ancient Mayan ruins, SCUBA diving along the Mayan Riviera, swimming in underground rivers and eating like "pigs". (You didn't see that coming, huh. The truth is I'm only human.)
We prepared this short video with our best moments in Cancun. Watch Now!
Before we arrived, I decided to do some meditation at the airplane….
Day 1: Arrive At the Hotel
After an easy 1-hour flight from Miami International airport, we arrived in Cancun, Mexico!
Driving is something that both of us wanted to avoid to completely de-stress ourselves so we arranged for a shuttle to pick us up from the airport to take us to the hotel.
When we arrived at the hotel, I knew we made the right choice. We were greeted warmly by the staff and introduced to our beautiful hotel.
Here's a photo of the hotel.
After getting settled in, we took a dive into their impressive and enormous pool.
Then we made our way to one of the 6 restaurants for dinner. This day we chose the French restaurant and indulged in appetizers, main courses and deserts.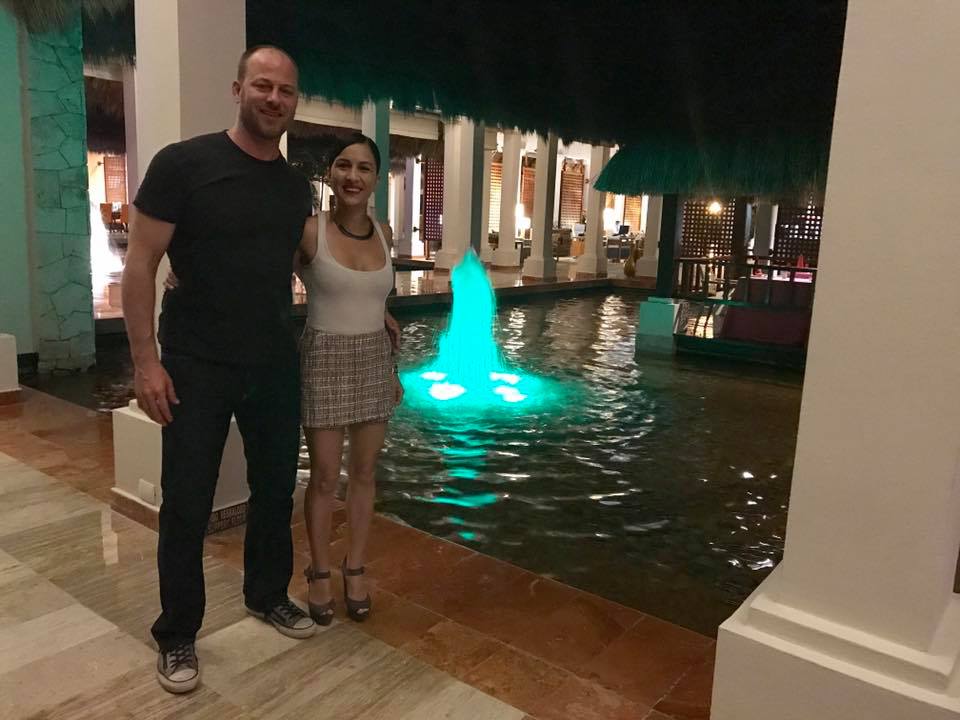 We ended up in bed at about 10:30 ready for our SCUBA diving lesson in the morning.
Day 2: Scuba Diving At The Underwater Museum & Coral Reef
Before we left, we scheduled an "intro to SCUBA" at Solo Buceo—a highly rated dive shop that offers SCUBA and snorkeling tours based in the hotel zone in Cancun.
The intro to SCUBA class included diving lessons and two dives—one in the underwater museum in Isla Mujeres and the other at a coral reef.
I've been diving before in Tahiti many years ago but forgot everything I learned. Gisele had never done diving before but was willing to give it a try.
Unfortunately, Gisele wasn't able to master the skills and decided to snorkel instead of dive. If you've never tried SCUBA before, it's a bit sketchy at first.
You have to override your natural panic that shows up when you start to breath underwater through a mechanical apparatus.
Something in the back of your mind tells you that you shouldn't be doing this! In fact, there was a moment when I was submerging on the first dive where I thought I might not be able to do this. Luckily, I calmed myself down and was fine.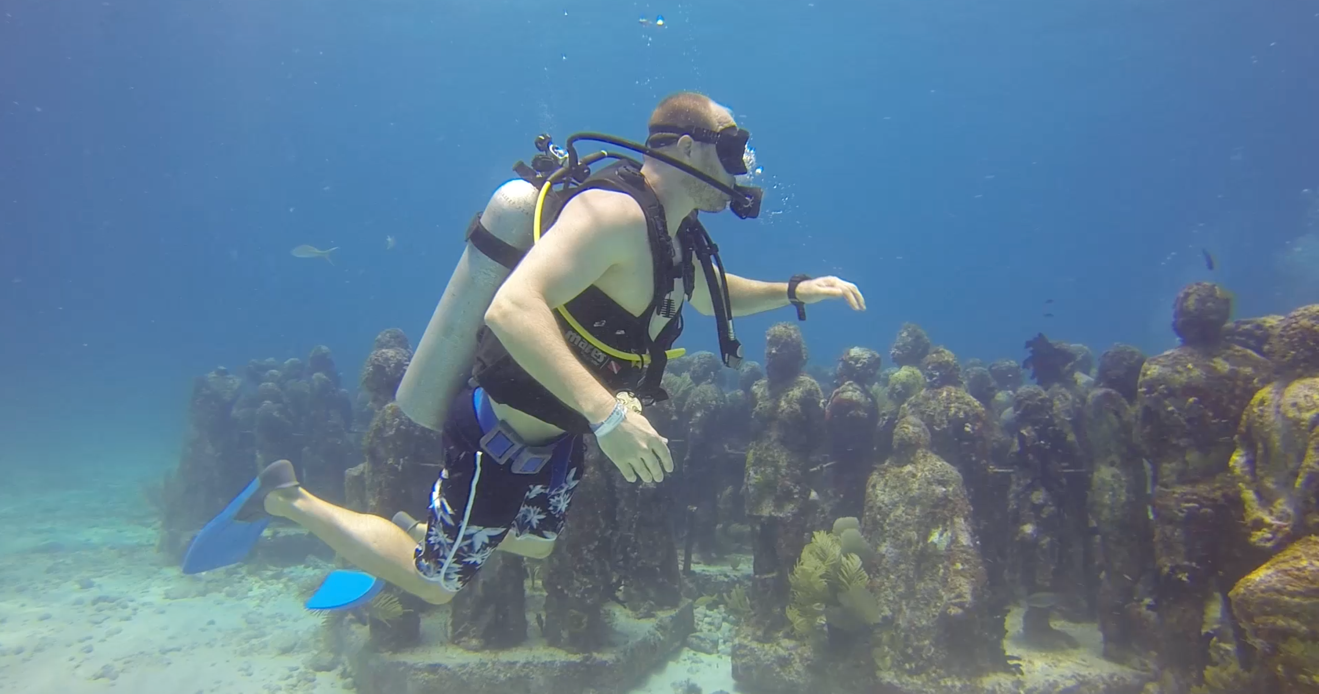 It was an amazing experience that rekindled my fascination with diving! Even though Gisele wasn't able to do it this time around, she at least got a taste of what it was like and enjoyed the snorkeling.
We both got pretty seasick on the way back to shore and took it easy for the rest of the day.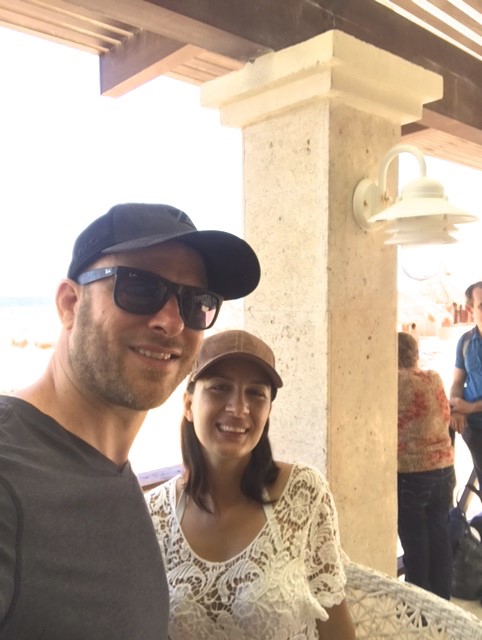 We ate at the beachside grill for lunch and hopped in the pool again after the sun went down.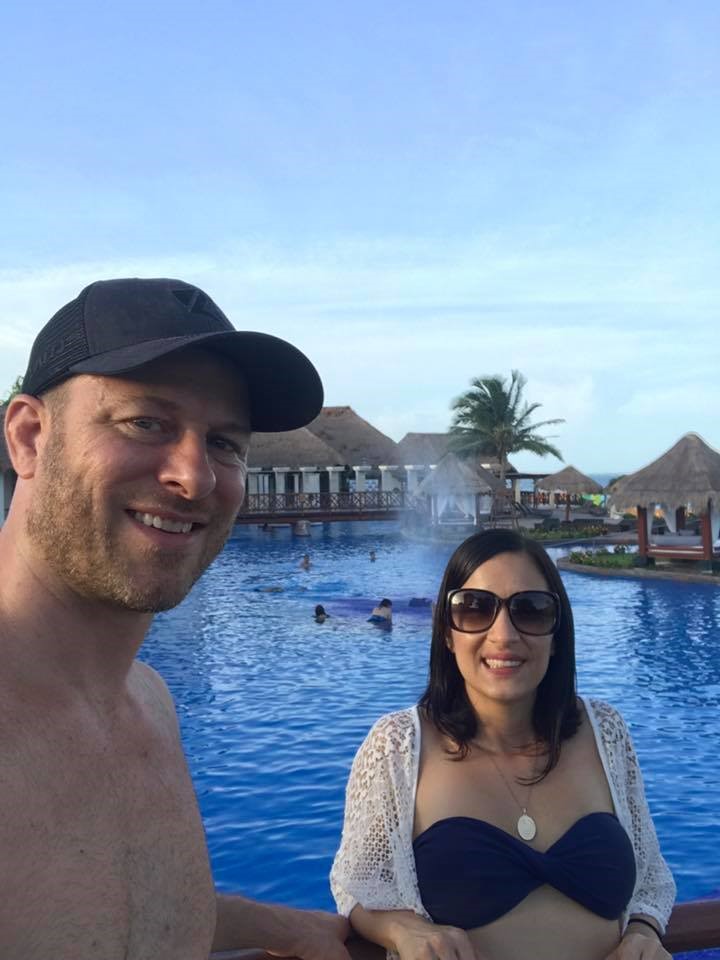 Day 3: Relaxing At The Pool and Trying Different Restaurants   

  
We decided to take it easy on this day. I was a little sunburned and we were both still a bit queasy from the day before.
When we first arrived, one of the concierges said there was a breakfast meeting where they took you through a tour of the property and offered a paid membership to get discounts on future stays at their line of hotels. Similar to timeshares, they offer a $100 gift certificate whether or not you join the membership.
So we signed up thinking that it was just a 90-minute breakfast and presentation. But it lasted for almost 5 hours.  Then we realized we were spending our precious vacation time being marketed to and left without purchasing the membership.
The deal seemed okay but they put pressure on you to say yes or no right away. They didn't give you time to think about it or do your research.
For a brief moment we were considering signing up but I have a rule where I don't buy under pressure after having a bad experience in the past. I also did a quick Google search and found mixed reviews about the offer.
Watch out for these situations when you travel! At best you spend time you could've been doing something else hearing a sales pitch.
At worst, you spend money on something that ends up being a burden—financially and psychologically—instead of a great deal.
Day 4: Mayan Adventure
We woke up at 7:50 to our breakfast-in-bed that we set up with room service the night before. Then we got ready for our ATV's Xtreme Zip-Lines adventure excursion with Adventuras Mayas—one of the many adventure tour companies.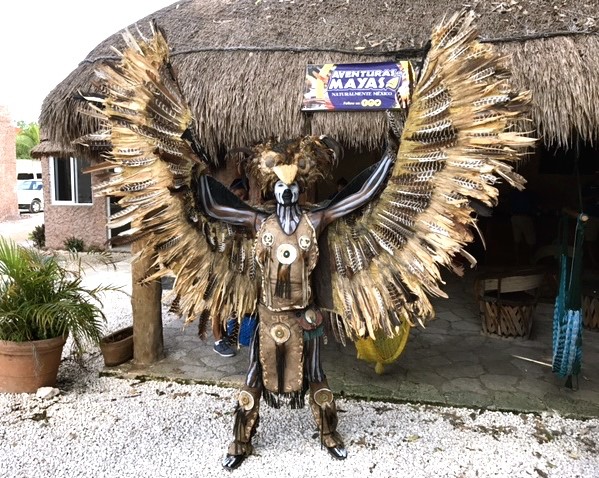 This is exactly what it sounds like. We drove ATVs, swam in a cenote (an underground river that the Mayans use for drinking water) and played on some zip-lines.
Here's what the cavern looks like from the inside: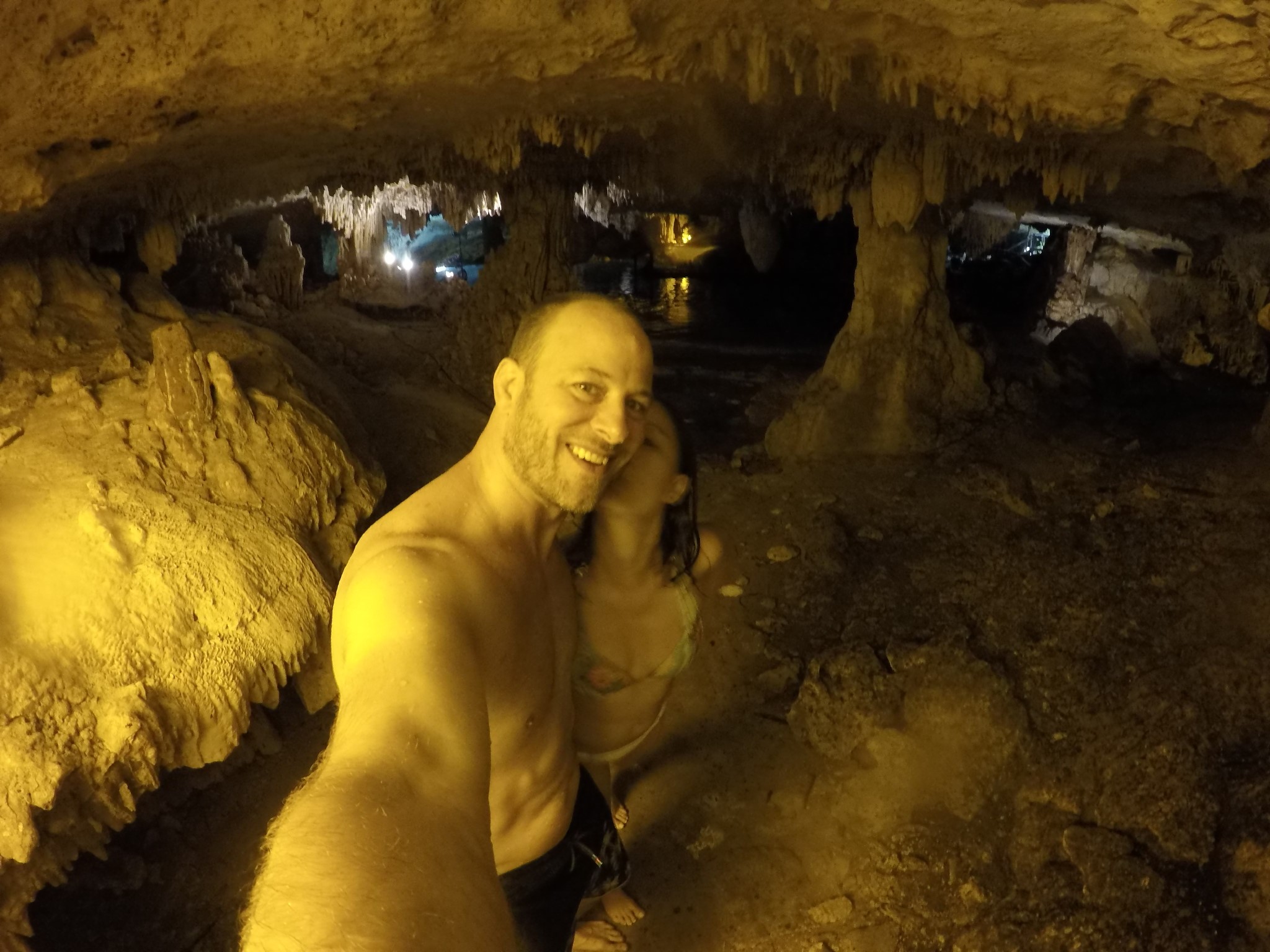 For the finale, we went up 75-feet above the jungle canopy to do some zip-lining. At first, Gisele wasn't thrilled with the idea LOL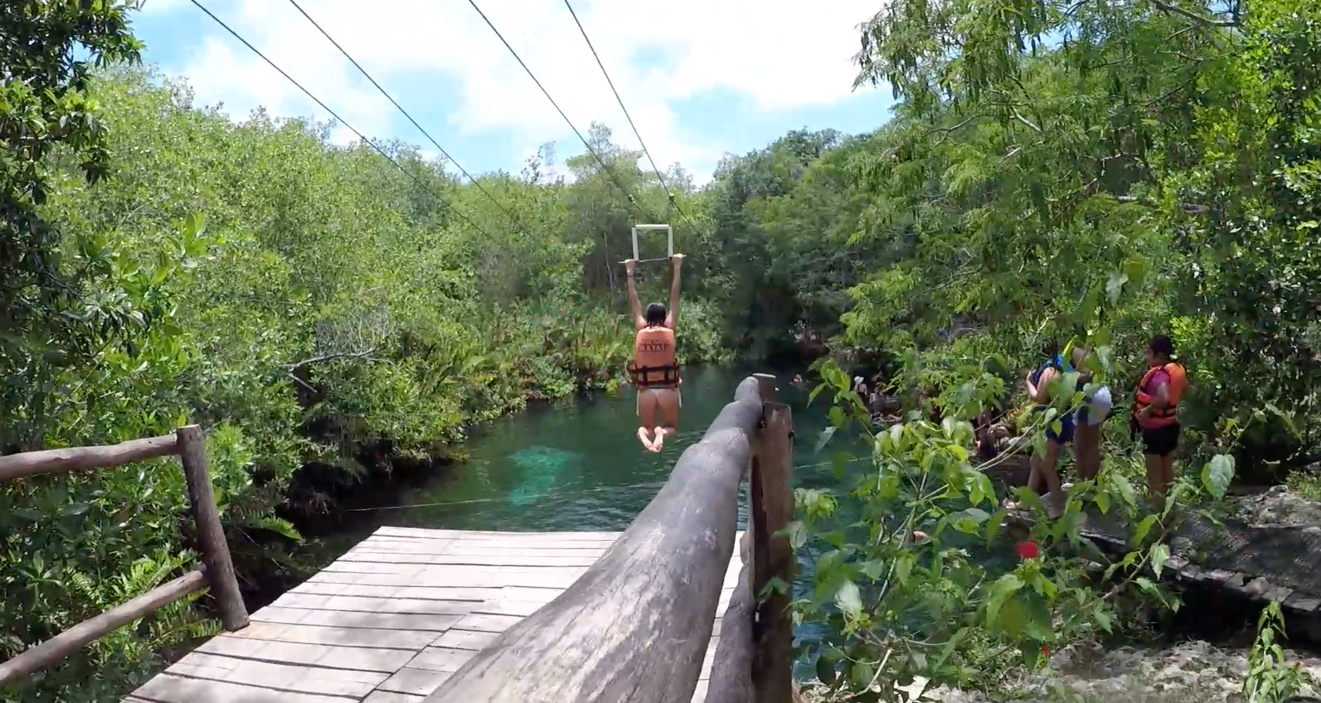 It was a lot of fun and Gisele overcame some of her fears with the zip-lines. And I had a lot of fun as well.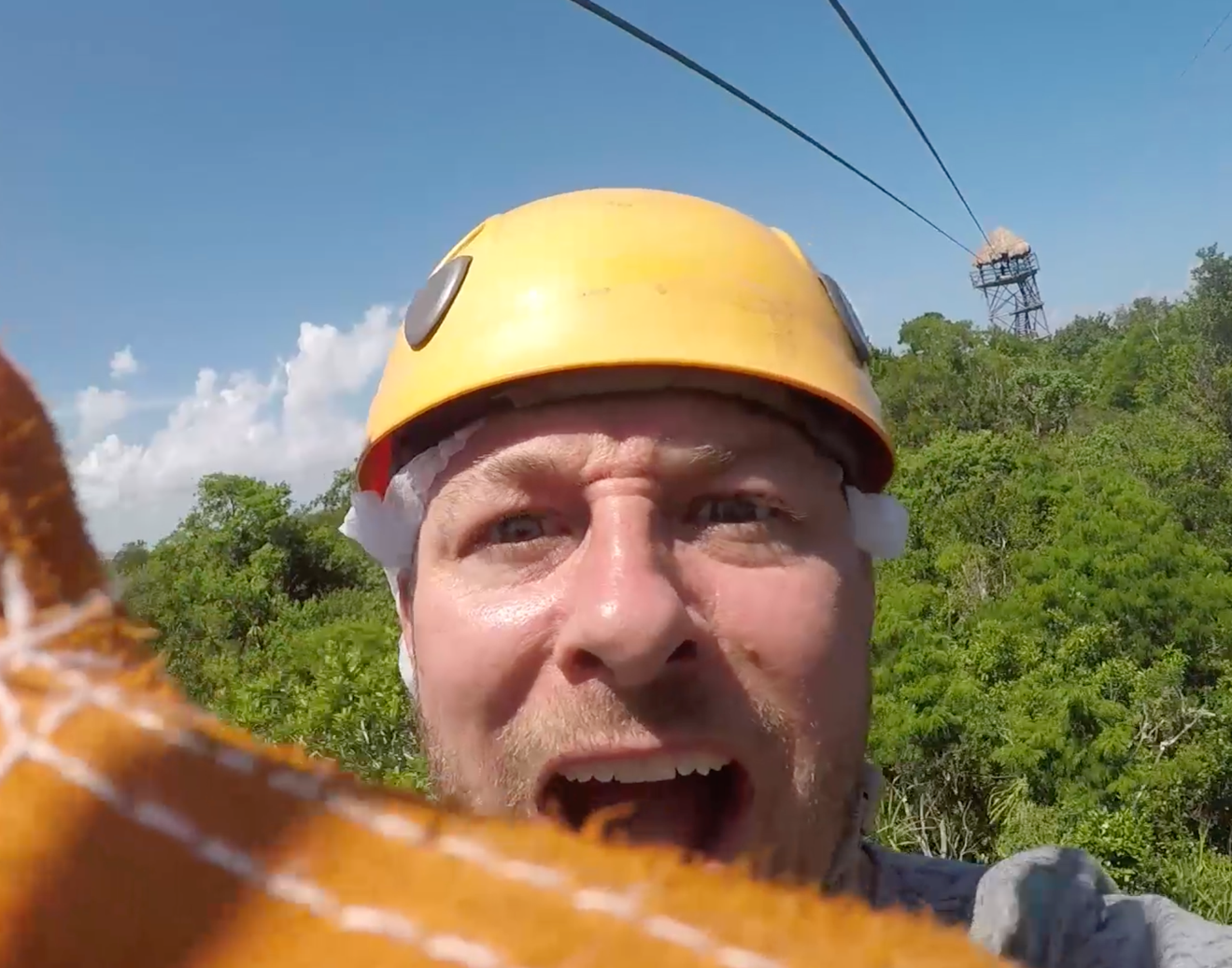 All in all, it was a fantastic experience that I'll remember for years to come.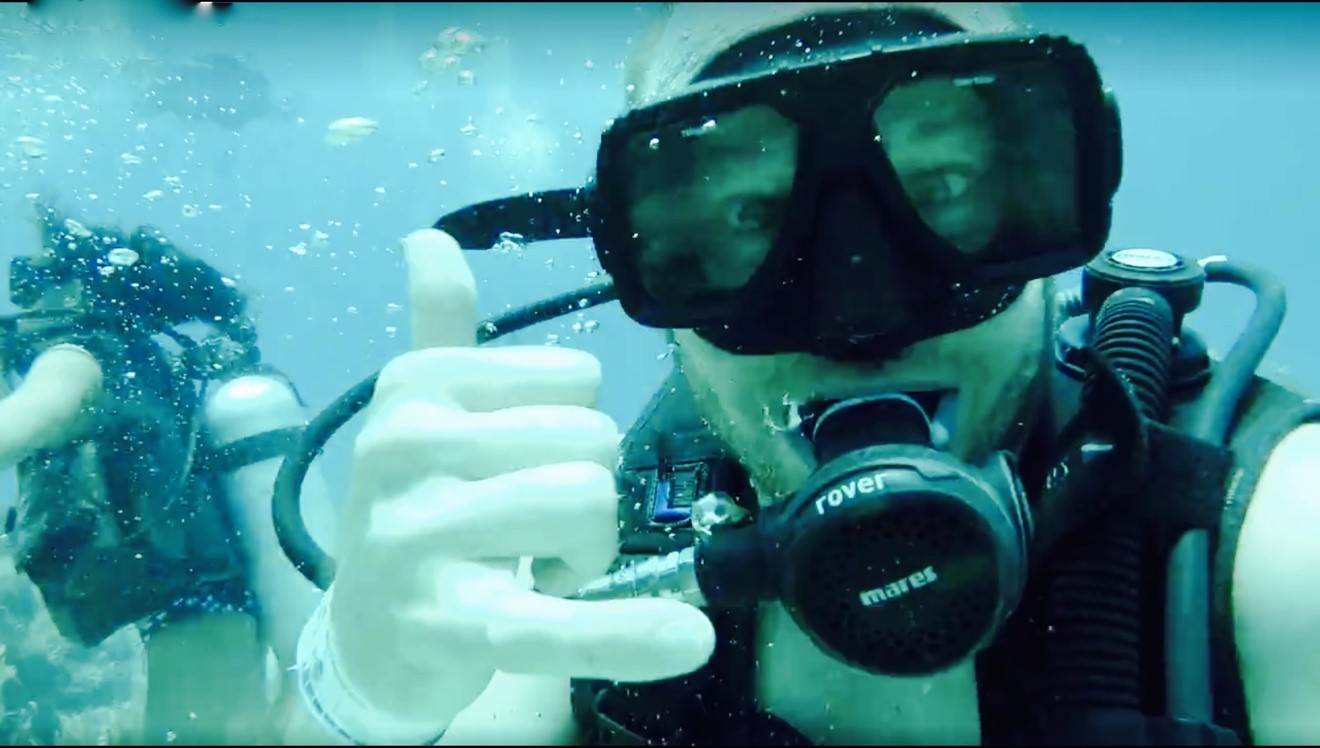 Day 5: Scuba Diving At The Coral Reef
We woke up planning to take it easy this day. That is, until I went by the Dive Shop on the hotel premise and learned that one of the best coral reefs in Mexico was a 5-minute boat ride from the beach in front of our hotel. I couldn't resist signing up!
Ever since my first dive a few days prior, I started having dreams about SCUBA diving and how otherworldly and incredible it was.
So, after making sure Gisele was okay with it, I signed up for another intro to SCUBA class. However, the people at the dive shop wanted to know why Gisele didn't want to give it a try too.
She said she wasn't in the mood for trying SCUBA again—especially after her unpleasant first time. The guys at Solo Buceo were good for experienced divers, and it's the only place that takes you on two dives instead of one, but it wasn't good for complete beginners.
They managed to talk Gisele into giving it a try again. And Miguel, who was our instructor in the pool, took his time and finally got Gisele past her obstacles. She spent nearly 10 minutes completely underwater! I was so proud of her!
She wasn't ready to go on the dive (Miguel said she should spend another time or two before diving in the ocean) so she stayed at the hotel pool while I went off to explore the coral reef right in front of our hotel.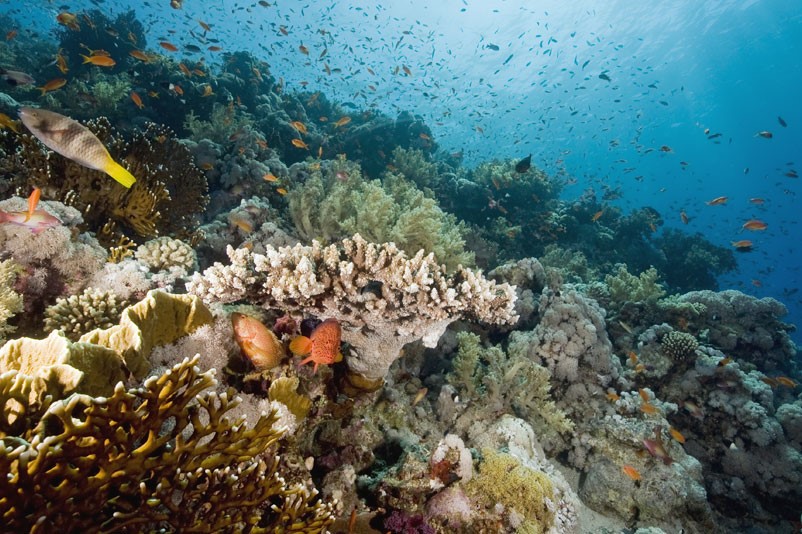 This dive wasn't as fun as the first dive with Solo Buceo. The dive masters were okay but there were too many people in the group. However, Miguel, our pool instructor, was phenomenal and wouldn't let Gisele give up until she got the hang of breathing underwater.
Unfortunately, the latch covering the USB port on my new GoPro Hero 5 Black broke off so I couldn't use it to get footage on the dive to show you the reef L
We relaxed for the rest of the day and ate in the Asian restaurant where they cooked our meal on hibachi grill in front of us.
Hibachi photo: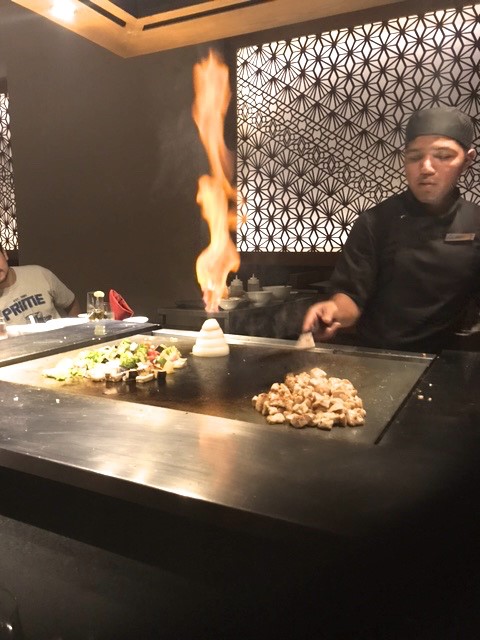 We went to bed in anticipation of our final day in Cancun.
Day 6: Coba and Mayan Jungle
There are a few major sites of Mayan ruins in the area—Tulum, Ek Balam, Chitchen Itza and Coba. But we only had one day so we decided to go to Coba.
We chose the archaeological site of Coba because it's home to the Nolhoch Mul, a group of temples in that area including Ixmoja—the tallest temple in the Yucatan Peninsula. It's 148 feet tall (45 meters).
The tour started with a relaxing canoe trip on a fresh water lagoon. Then we took a refreshing swim in the crystal clear waters of a cenote (the underground caves where the ancient Mayans gathered their drinking water).
Then we rode a few ziplines and rappelled down 55-feet (or 17 meters for you metric system folks) into a sinkhole. Gisele loved the ziplines and rappelling. I thought they were just okay.
After climbing a 100-foot rock wall in New York's Catskill Mountains, it takes a little more than that to get my adrenaline going. But I was very proud of Gisele for facing and overcoming her fears.
After our ziplines, we made our way to a nearby Mayan village to enjoy an authentic Mayan meal. Before we sat down to eat, Gisele made friends with a spider monkey that hung out around the village.
We ate chicken in mole sauce, lentil soup, homemade tortillas, fresh pico de gallo and guacamole.
Here's a photo of one of the fried corn and herbs dish that the mayan cook was preparing for us: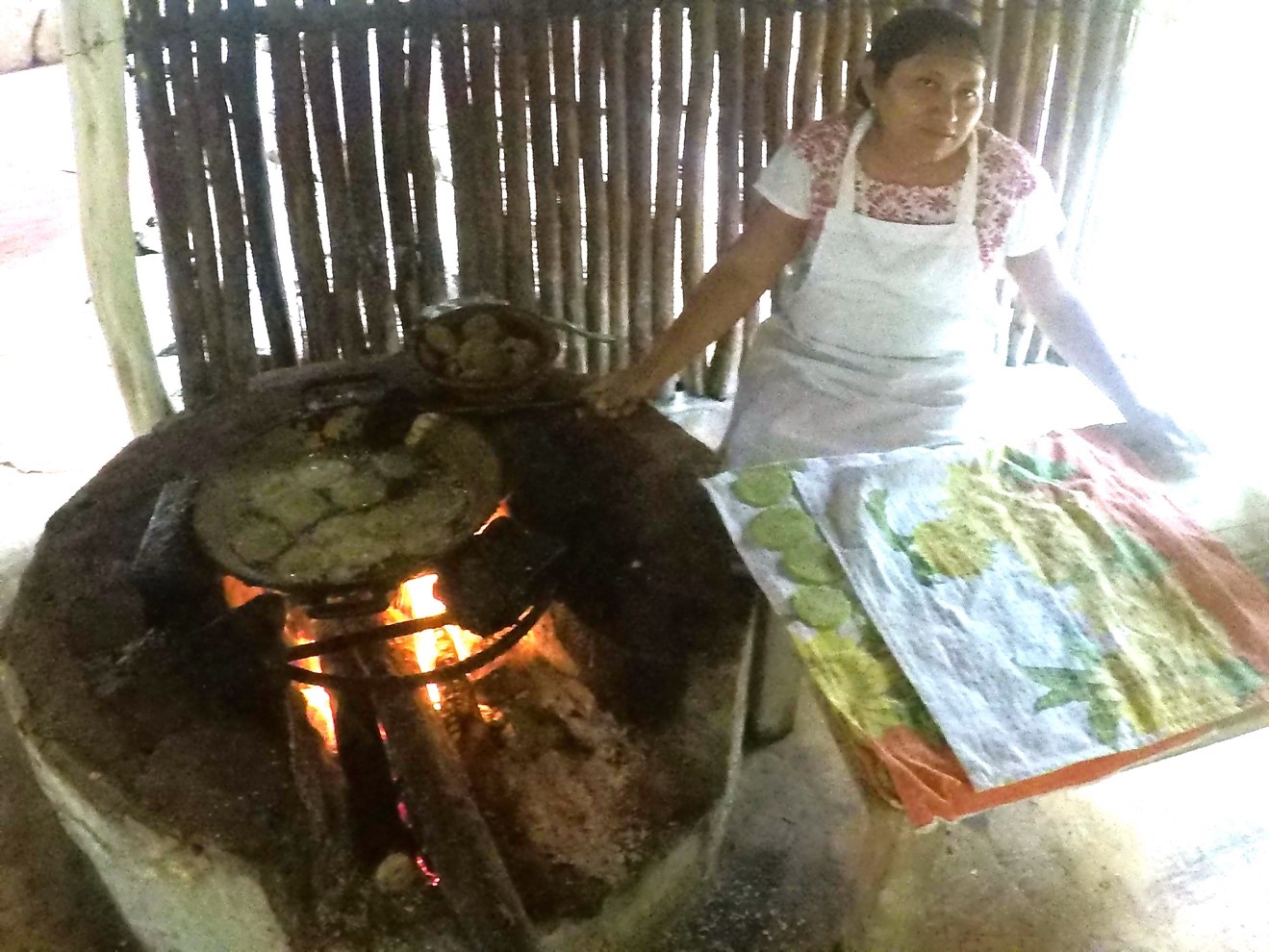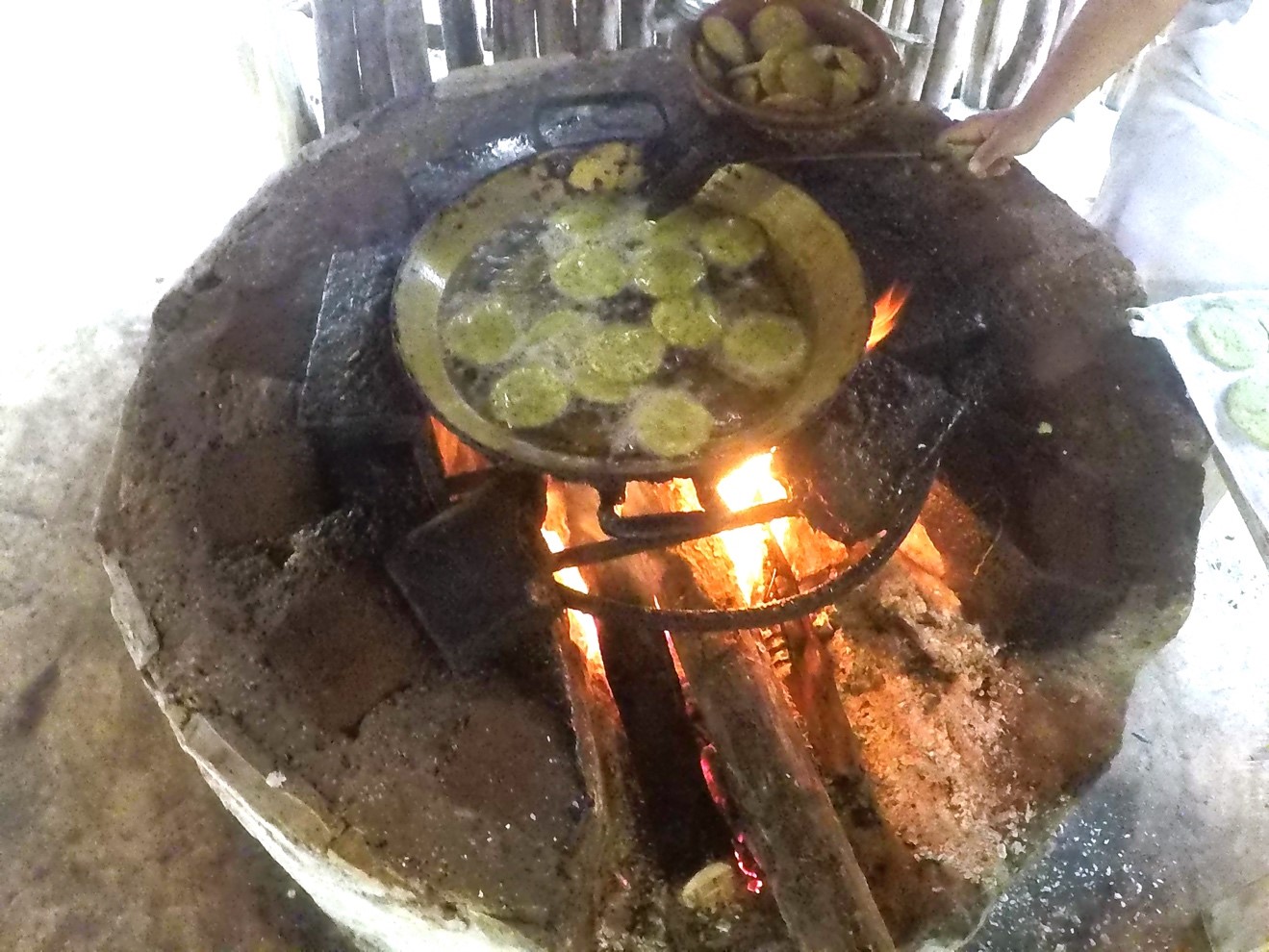 We were already feeling tired so we fueled up for the big climb coming up next!
After lunch, we made our way to Coba. From the entrance of the archaeological site, we began a tour of the ruins. Our guide, Perfecto Mota, explained to us the history of Coba and how the ancient Mayans built their city.
He also explained how the Mayans there didn't practice human sacrifice or play ballgames with human heads. I guess Mel Gibson's movie Apocalypto referred to another time or place in Mayan history.
When our archaeological tour ended, it was time to climb Ixmoja—the tallest temple in the entire Yucatan at 148 feet (42 meters).
It was about a 20-minute walk to the temple. That was the warm-up. When we arrived at the steps of Ixmoja, we could see that we had our work cut out for us.
Check out the photos and full video of climbing Ixmoja: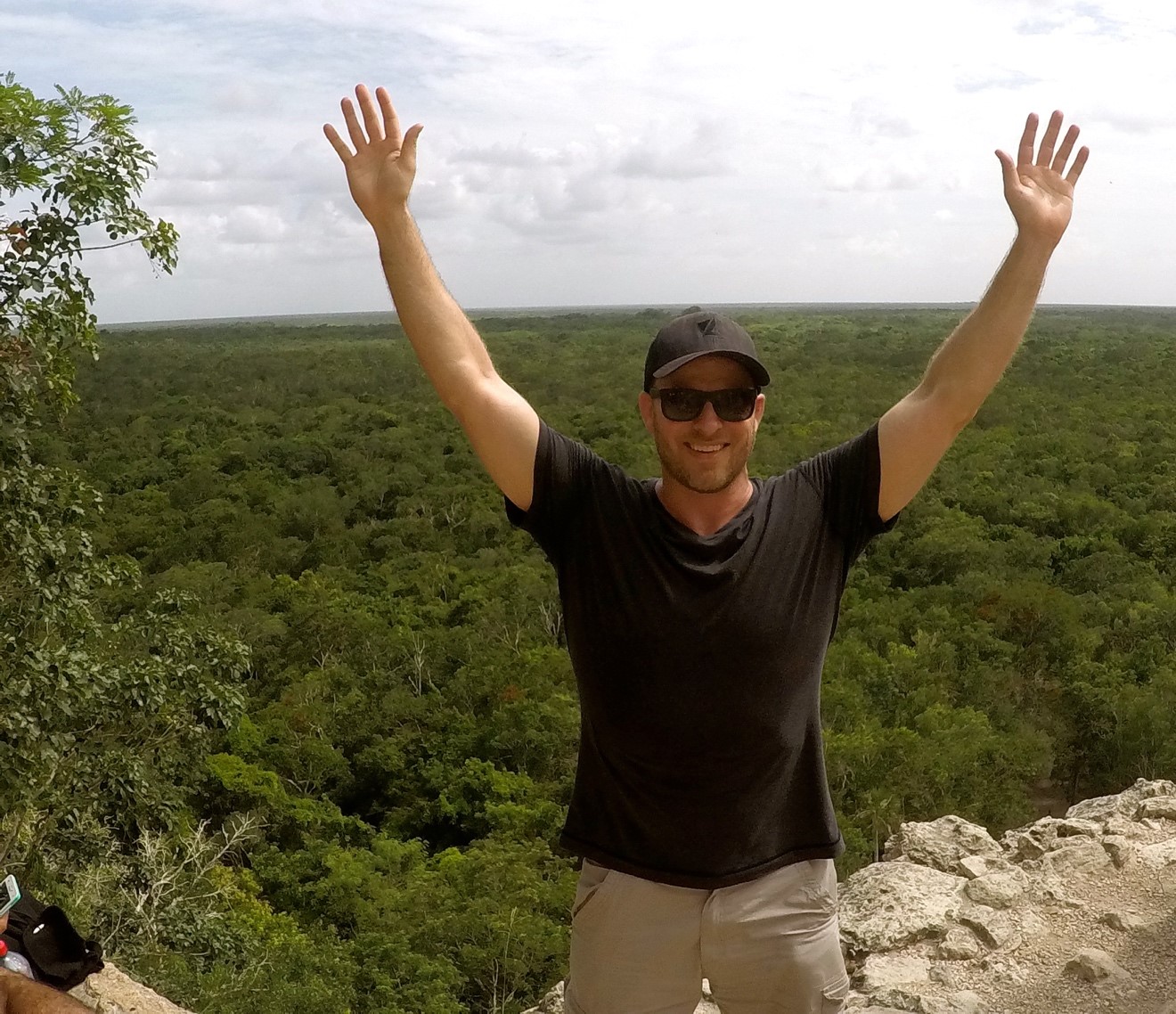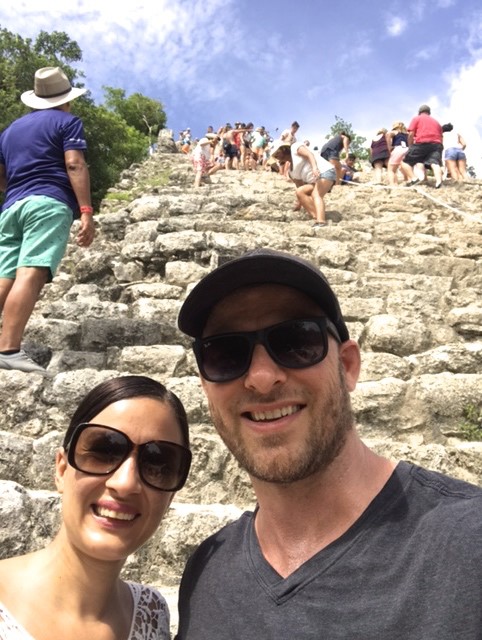 After returning triumphantly from Coba, it was time to pick up a few souvenirs and head back to the hotel to enjoy our last night in Mexico.
We spent our last night in the pool, just relaxing. Just being in the present, grateful for the vacation and for everything we experienced.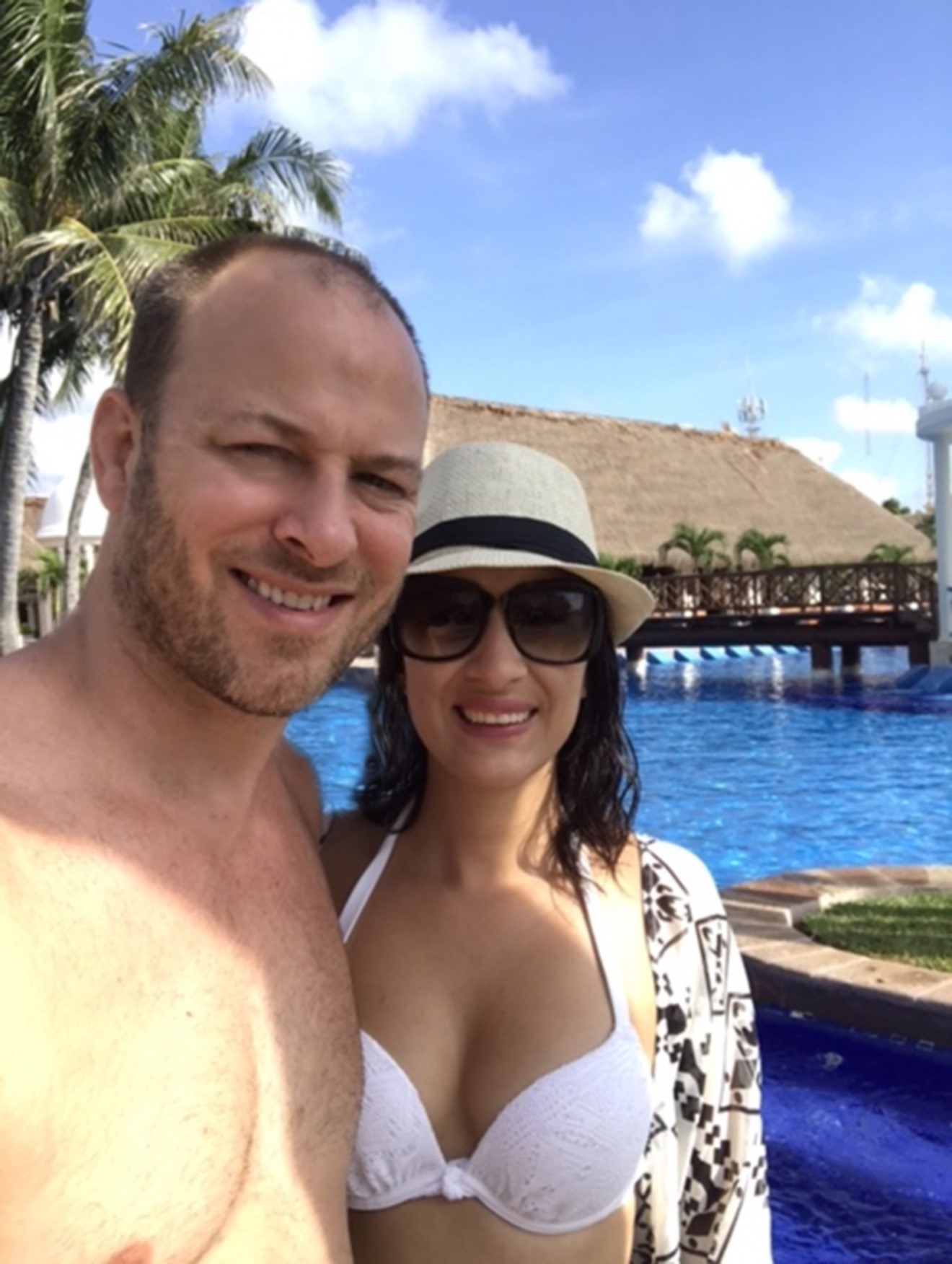 There are so many life lessons to be learned from traveling. I'd like to share with you some from this last trip.
Lesson #1: There are plenty of great deals on vacations
Tripadvisor.com is the best place to search for what to do, the prices and reviews about the hotels and excursions.
Lesson #2 The Media Exaggerates
In the 24/7 cable news cycles, media channels are doing everything to attract viewers and beat their competitors.
As a result, many non-stories are dressed up with dramatic music and flashy graphics to portray drama, fear and capture the attention of American viewers. So, watch out for what they say about your destination before you decide to not go.
Lesson #3: All-Inclusive resorts are amazing
All-Inclusive means you can truly relax and indulge in your vacation, because it's all included for one incredible price. We got a great deal with just about everything in our all-inclusive vacation package — including flights, transportation, our hotel stay, meals and snacks, soft and alcoholic beverages, all taxes and tips. Whether you're on a tight budget or want to relax in luxury, it's an amazing way to spend your vacation. Research to see if you have all-inclusive hotels available in your destinations.
Lesson #4: Alternate Days of Adventure With Relaxation Days
The problem is that the quest for adventure edges out the relaxation you so desperately need. The perfect balance for us was one day doing an adventure tour and another day relaxing at the resort. We noticed that the more relax you are when you get back home, the more productive you are when you return to work.
Lesson #5: Be Present and Enjoy Yourself
Many of us over-plan and over-extend on vacation. We feel like we have to "see it all," because without saying it, we don't intend to come back.  The goal is not to get your picture taken in front of every major monument, but to be present and savor wherever you go.
If you must make a schedule, try planning only one activity a day or every 2 days. If that means you miss something, skip the schedule altogether, which will make planning easier and the vacation more spontaneous. You don't want to come back from your vacation and realize that you need another vacation because you're too stressed out from all the tours and sightseeing's that you planned.
Conclusion:
You probably won't be able to implement all the lesson above right away, but even if you manage just one or two in your next trip, I guarantee you'll feel better than in your last vacations.
I hope you enjoyed listening or reading our vacation blog. We thought it would be a great way to share a little bit of our lives, since you're an important part.
We'd love to know what you think about our trip. Also, if you enjoyed listening to this personal episode and if you want to know more about our life. And finally, if you want to share some vacation tips that can help others have a better time when planning their next getaway.

Want help becoming the healthiest, fittest, strongest version of yourself this year?
Most people know that exercise, eating well, and quality sleep are important for looking and feeling better. Yet they need help applying that knowledge in the context of their busy, sometimes stressful lives.
That's why we created our brand new training called "How To Burn Fat, Build Muscle And Transform Your Body Forever (Even If You're 30, 40, or 50)". This training is packed with everything you need to know to finally create that leaner, fitter, and healthier body that you've always wanted.
PLUS: If you stay until the end you get a special bonus: a 7-day body transformation template to drop up to 7 lbs in a week without starving or going crazy.