Gisele and I have been in Asia for 4 months now. And it's been nothing short of life changing. In this blog post and podcast episode we share a little bit of our journey and the mind-blowing lessons we learned from living on the other side of the globe. Listen now!
Our Last Month In Thailand
We had an incredible last month. We visited several famous Buddhist temples including the Golden Mount Temple and Wat Pho. I also took a weeklong trip to Hong Kong with my new friend Ror Alexander.
I'll share some of the photos and lessons we've learned so you can share in the experience with us.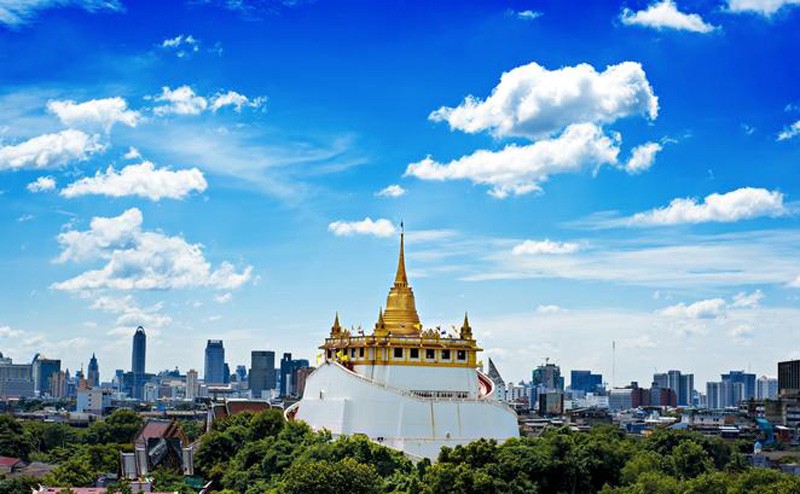 The Golden Mount Buddhist Temple (Wat Saket)
Bangkok has some incredible temples. But the Golden Mount was my personal favorite. It was Gisele's favorite too. Although it's not as
massive as some of the other temples, it's the tallest. And you get to climb up all the stairs to get to the top. So it was more of an adventure.
We also took a riverboat to get there which was an experience all on it's own. Unfortunately, I don't have any photos or videos of the boat ride. But it was pretty wild. You need to be in decent shape to get in and out of the boat without falling into the water. It's not for handicap people at all. And when you're in the boat, you pull up the blue tarp so the nasty river water doesn't splash you. That's the blue tarp you see in the photo below.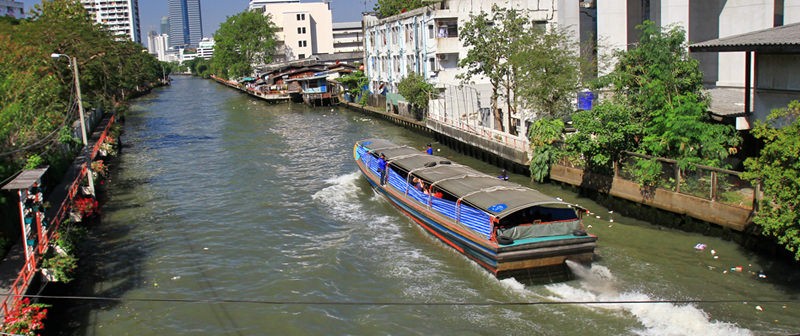 We finally arrived at The Golden Mount without getting sluiced by the river water. And…wow…what an amazing sight to behold.
The Golden Mount (or Wat Saket) is a Buddhist temple in the Pom Prap Sattrut district of Bangkok that dates back hundreds of years.
This landmark temple is built on the only hill in Bangkok. It's of great significance for followers of Buddhism.  Enshrined in the pagoda on the top of the Golden Mount are the Buddha relics that India gave to Siam in the reign of King Rama V (1853-1910).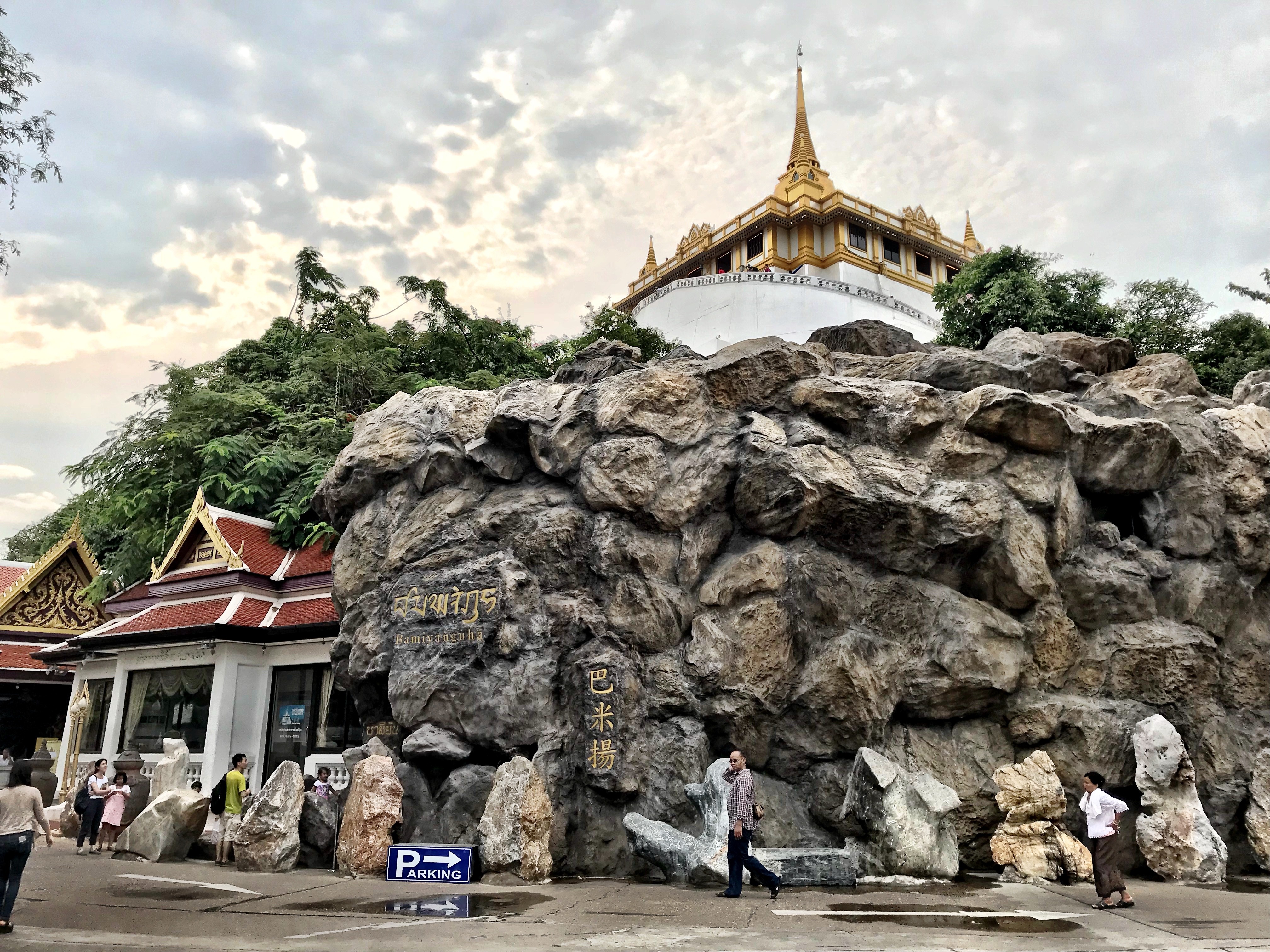 The Golden Mount Buddhist Temple.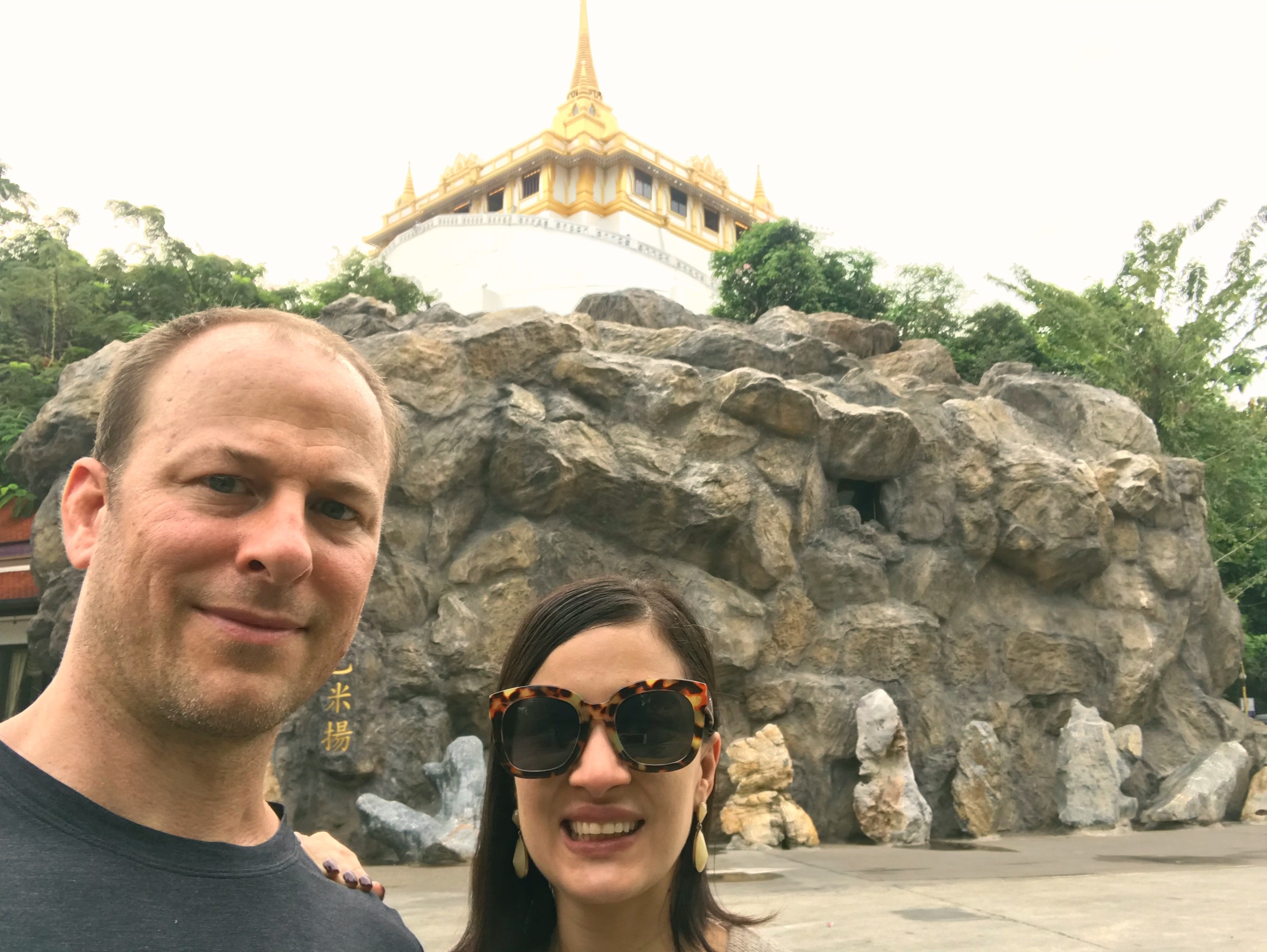 Gisele and I in front of The Golden Mount.
As you can see, the weather was a bit overcast—which was actually a good thing. Bangkok gets really hot. It's regularly 90 degrees Fahrenheit (32 degrees Celsius) with a humidity reaching in the 90s as well.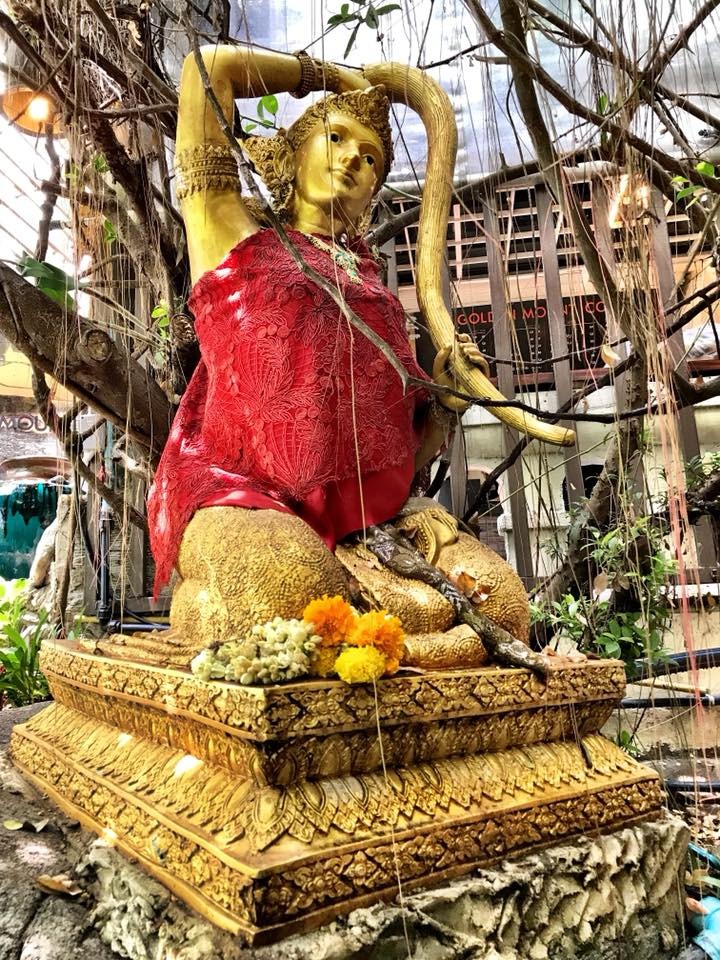 But to get to the top, you have to climb 344 stairs. So we started making our way up the stairs…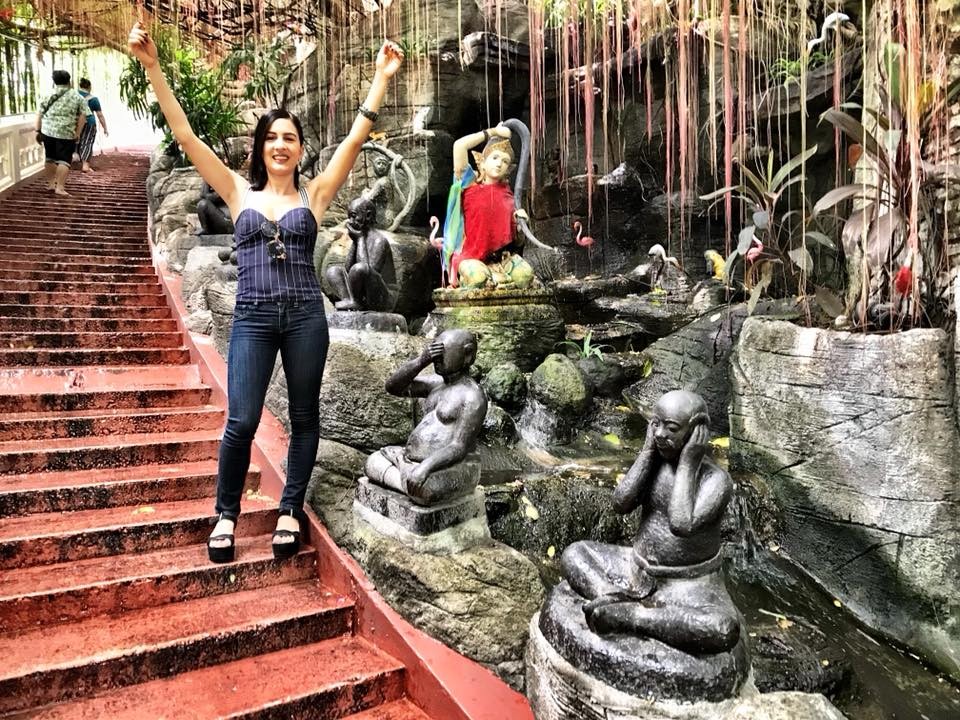 On the way to the top, there are many unique sculptures and statues. In the photo above, you see the Buddhist version of hear no evil, see no evil, speak no evil along with Gisele's victory pose.
Gisele's feeling of victory was a bit premature as we had many more steps to climb.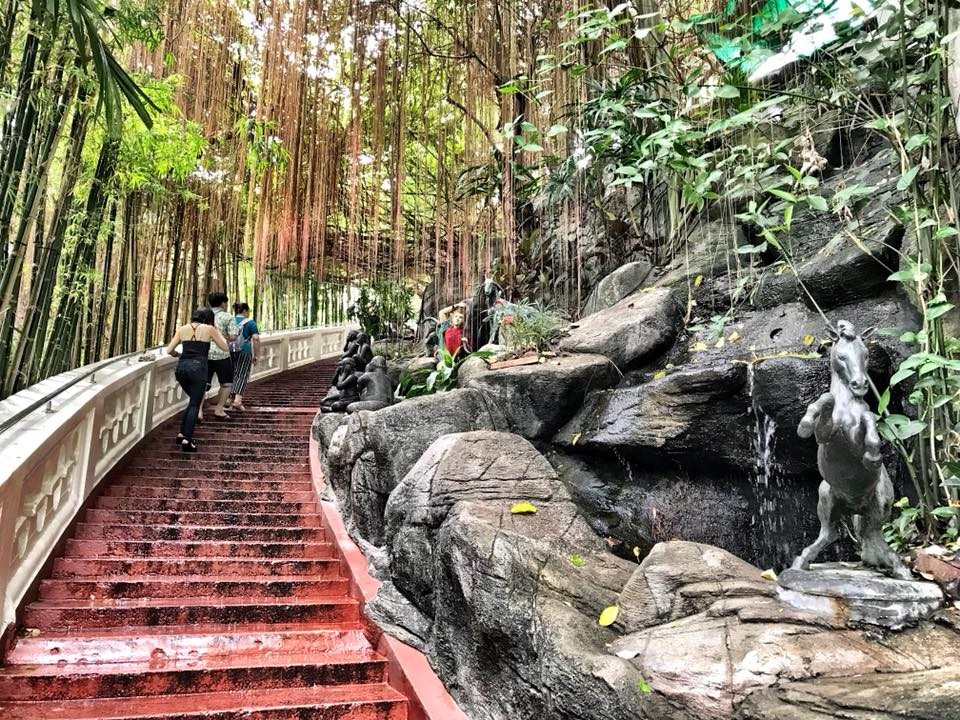 It's 344 steps to get to the top. You need to be in decent shape to make it there in the intense tropical heat and humidity.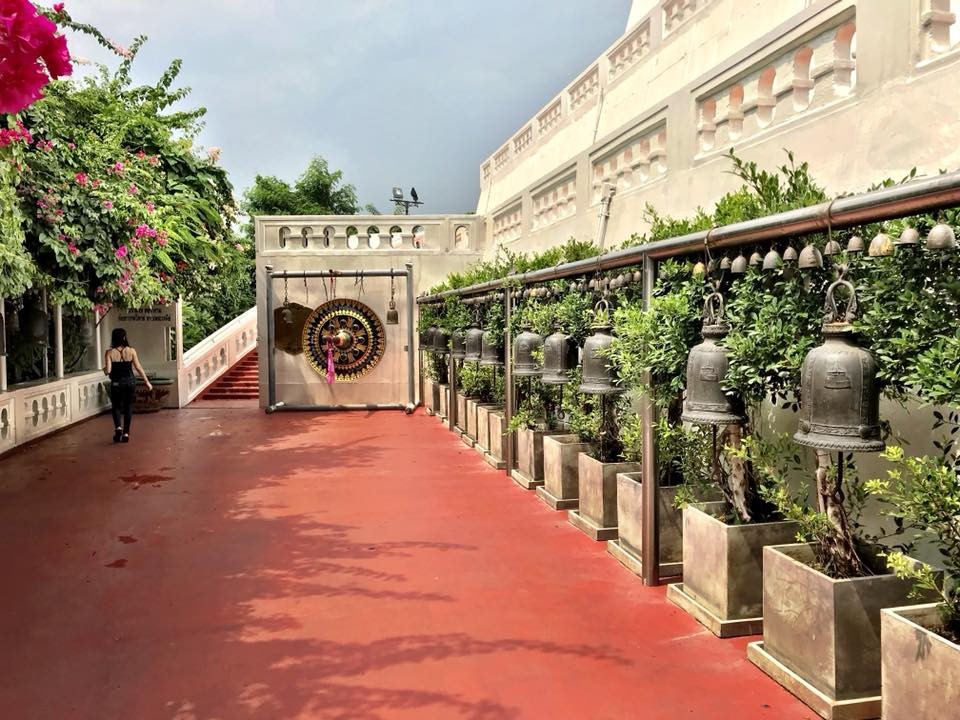 Before you get to the top, you go past a section with prayer bells and a gong. You get a sense of beauty and peace being in these places.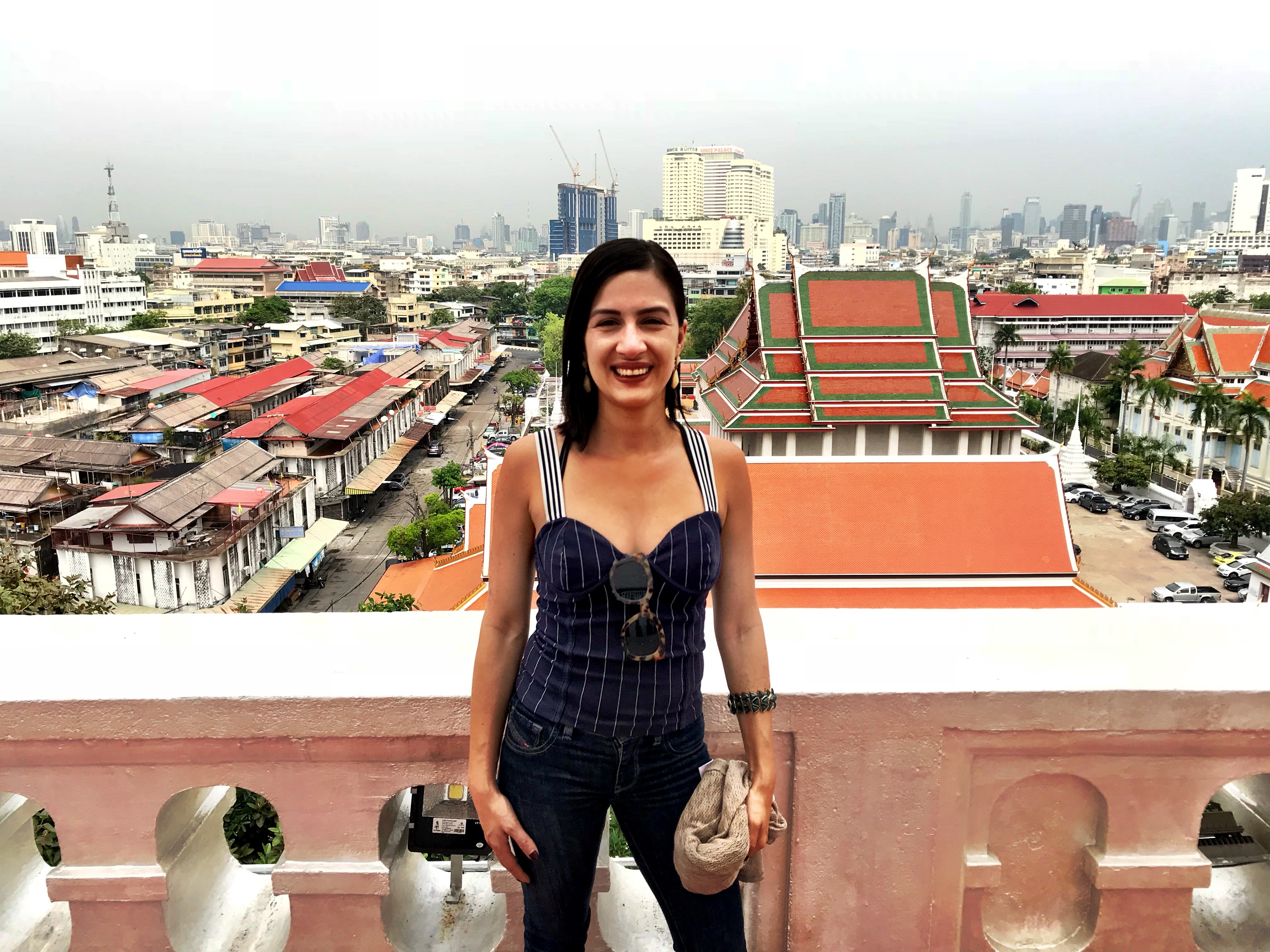 After climbing hundreds of stairs, we finally make it to the top. The panoramic view of Bangkok from here is a sight to behold. The photo above hardly does it any justice.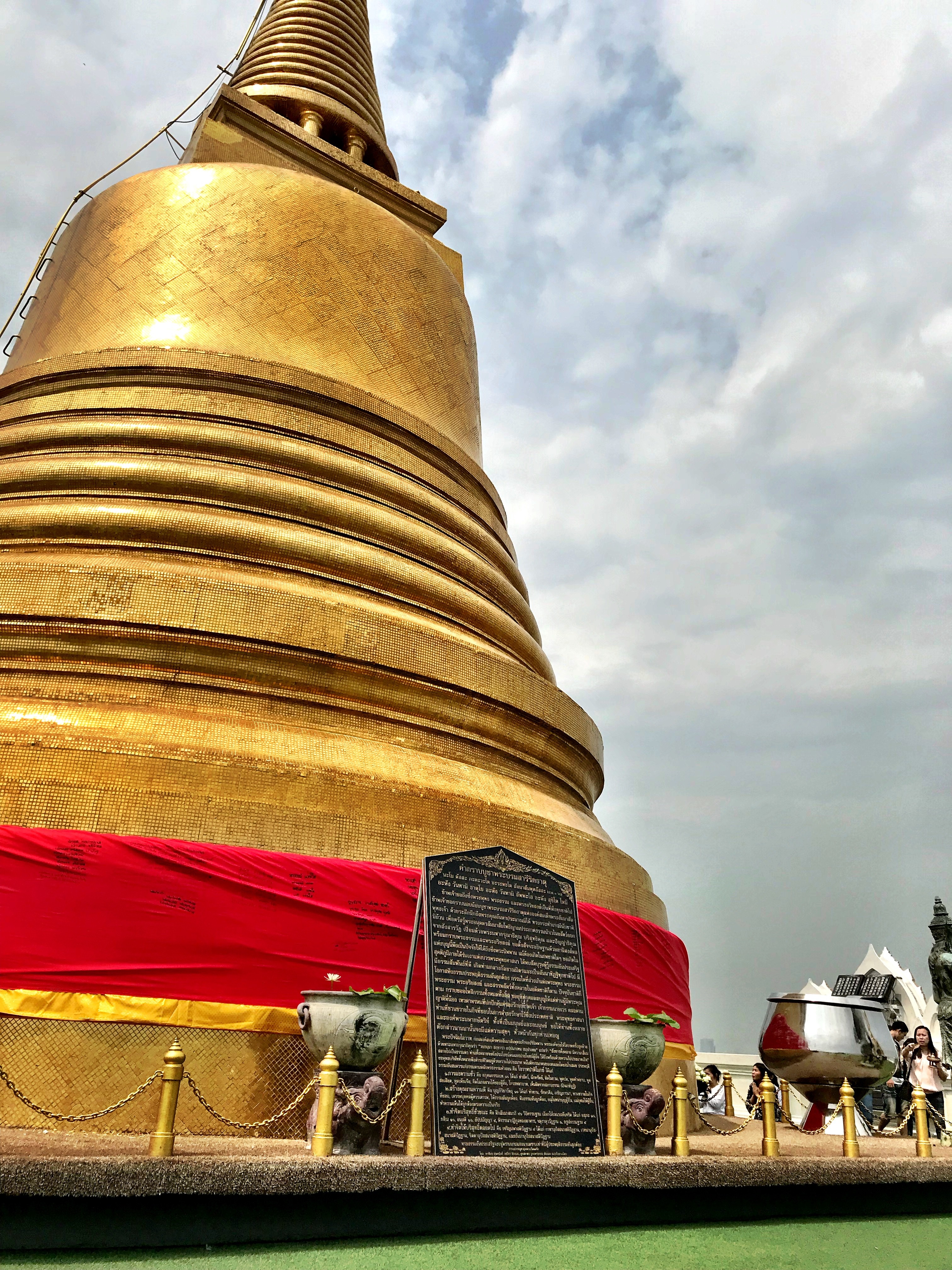 The very pinnacle of the temple is a golden chedi that reaches up high into the sky.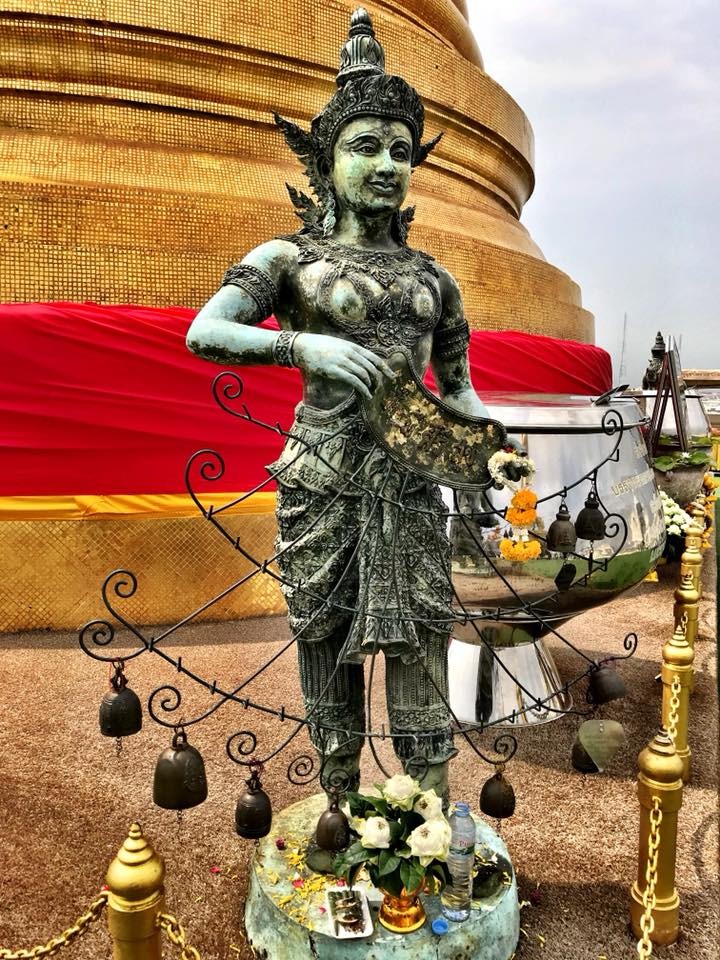 The golden chedi is surrounded by more statues and a large gong.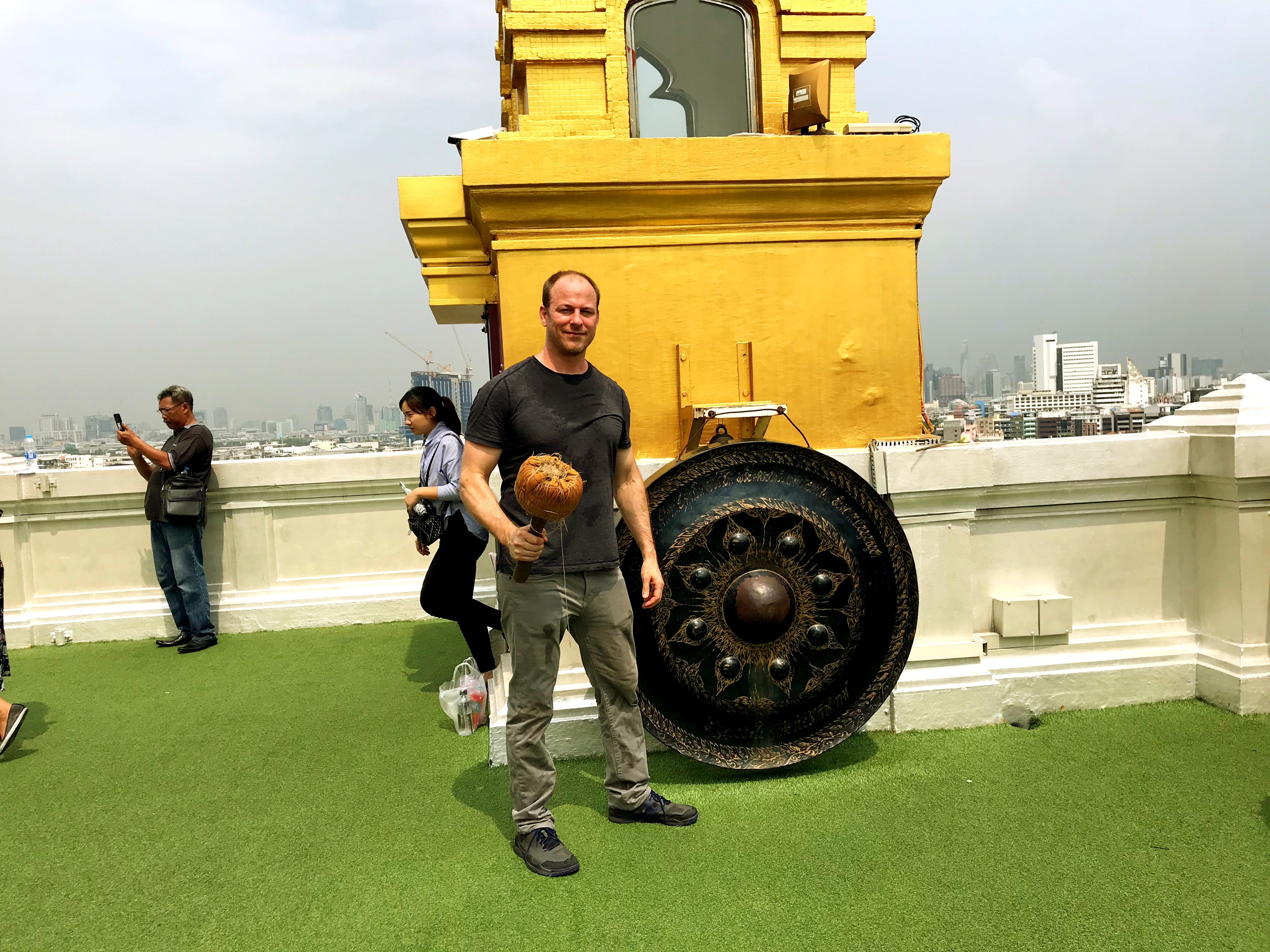 Here's a photo of me sweating through my clothes ready to strike the gong with the mallet.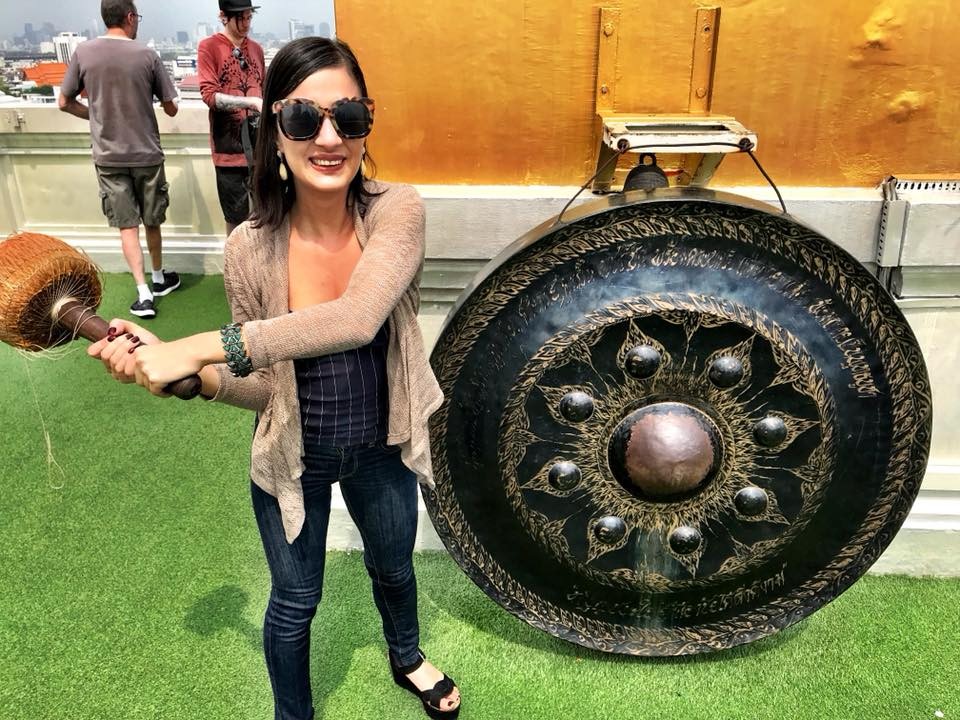 Went to the top, rung the bell, now it's time to go back down and get some delicious Thai food!
Temple Of The Reclining Buddha (Wat Pho)
Another beautiful temple we visited was Wat Pho also known as The Temple of The Reclining Buddha. This temple is famous for housing a giant reclining Buddha that measures 46 metres long and is covered in gold leaf.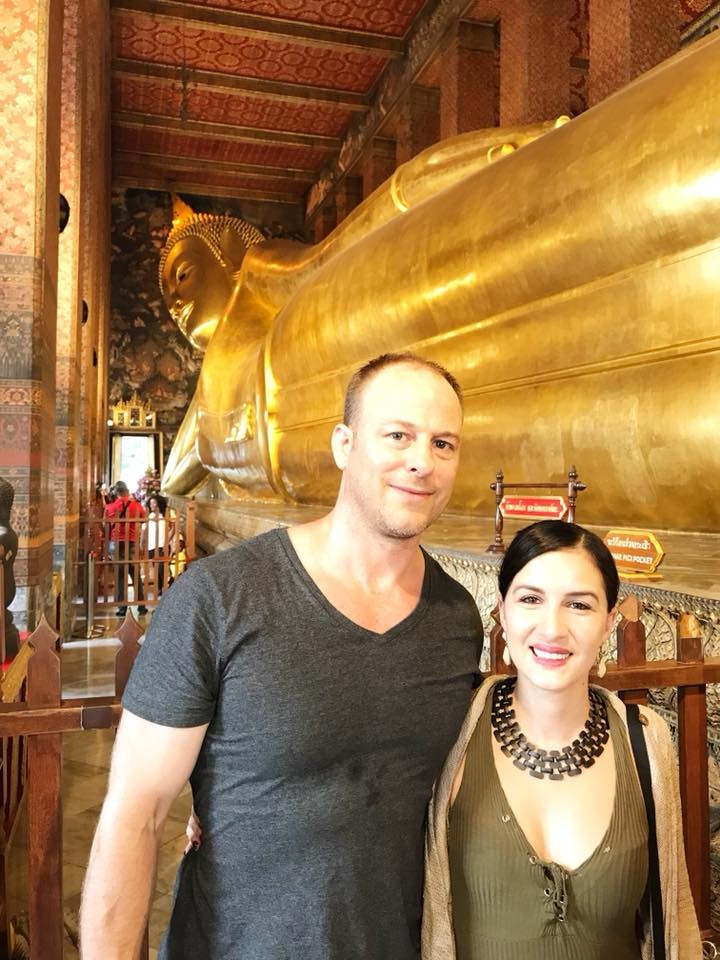 This golden reclining Buddha statue is huge!
Another cool fact about The Temple of The Reclining Buddha is that they teach Ruesi Datton here too. That's Thailand's version of yoga. Not too many people have even heard of Thai yoga but it's related to Thai massage and dates back to over 2,500 years.
In the courtyard of the temple, you can see many gnome statues demonstrating Thai yoga poses.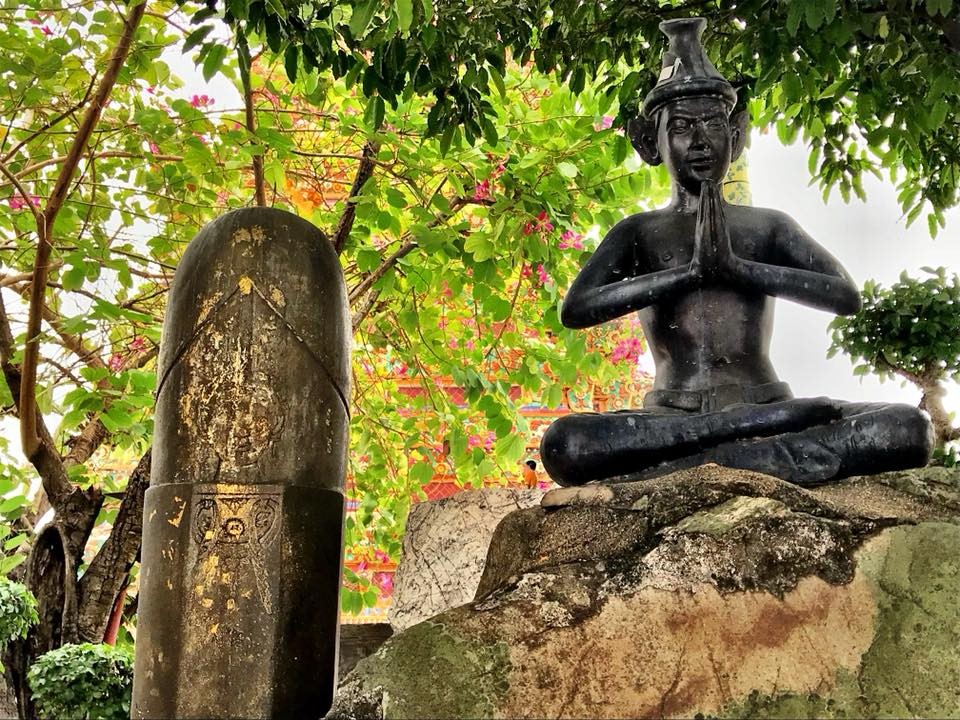 Unfortunately, my time in Bangkok went by so fast that I didn't get a chance to take the Thai yoga certification course. But it's on my list for my next time in Bangkok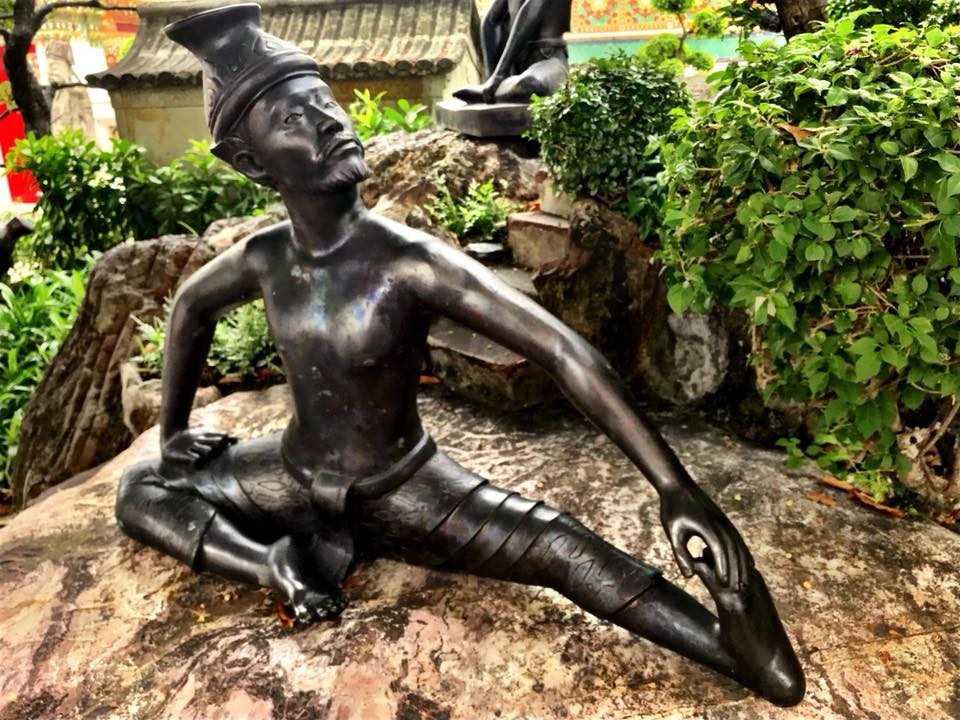 Besides the cute gnome statues, there are some very large and intimidating guardian statues on the temple premises as well as tall spires that reach high into the sky.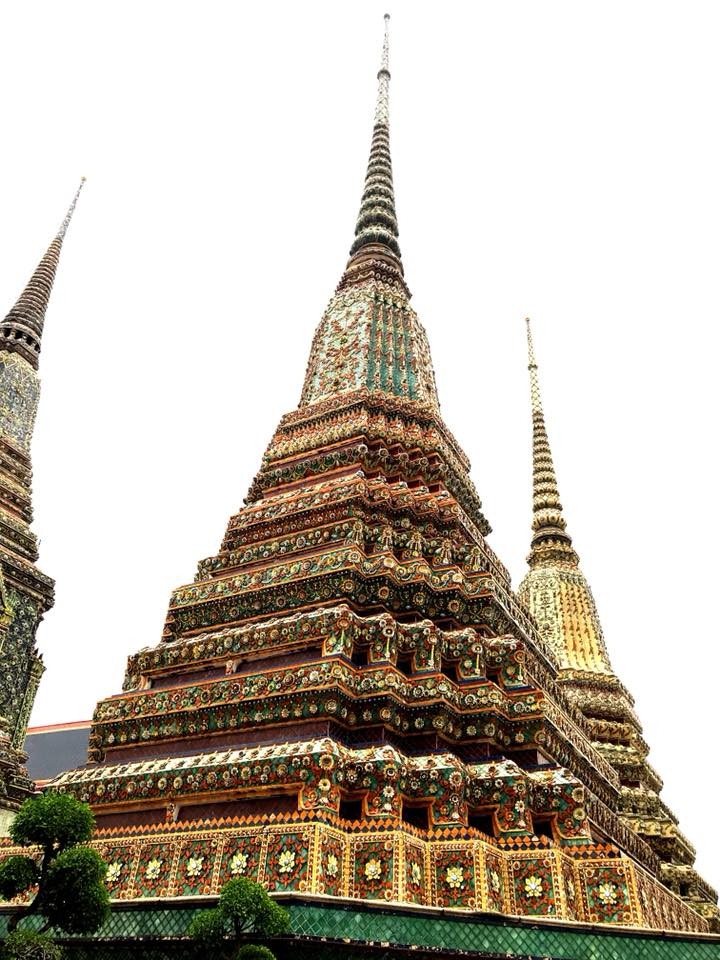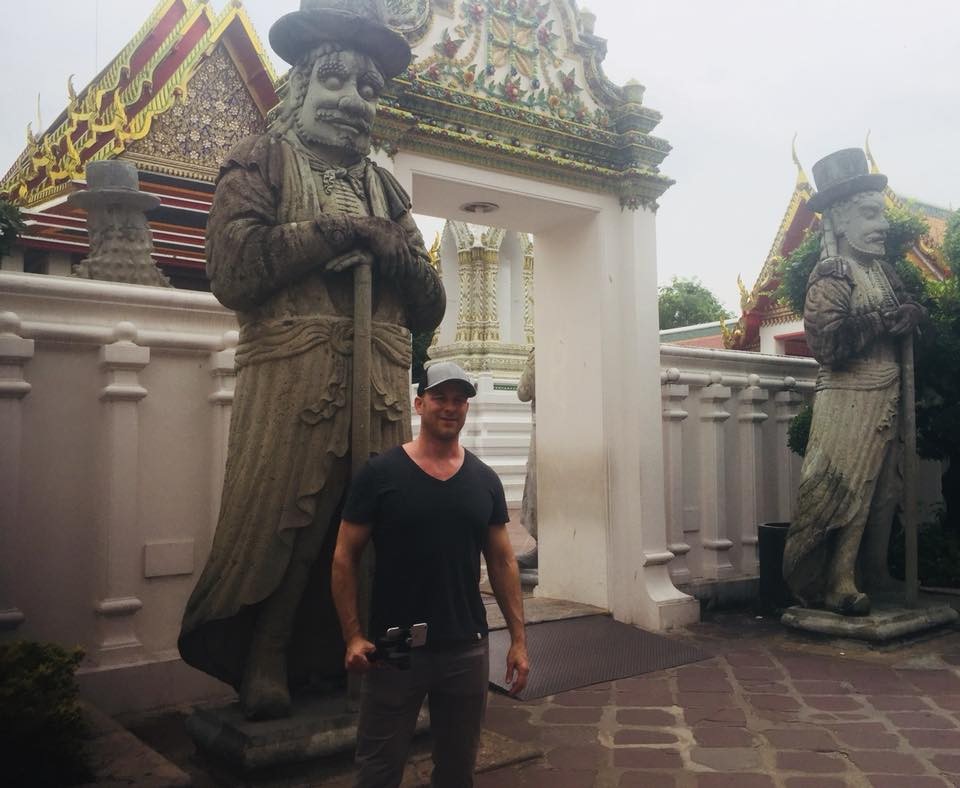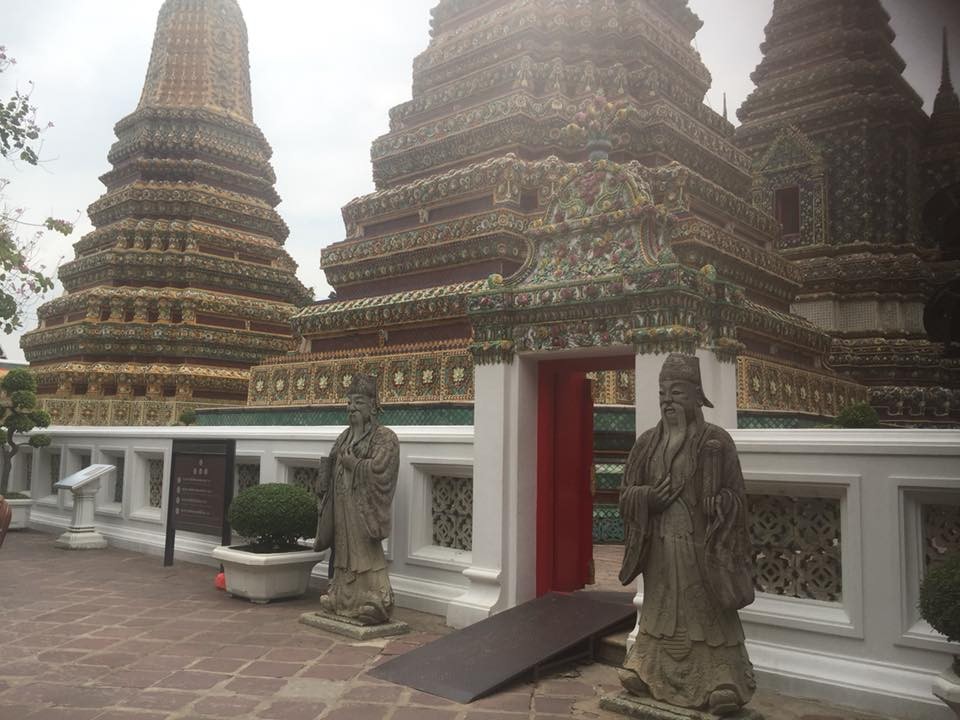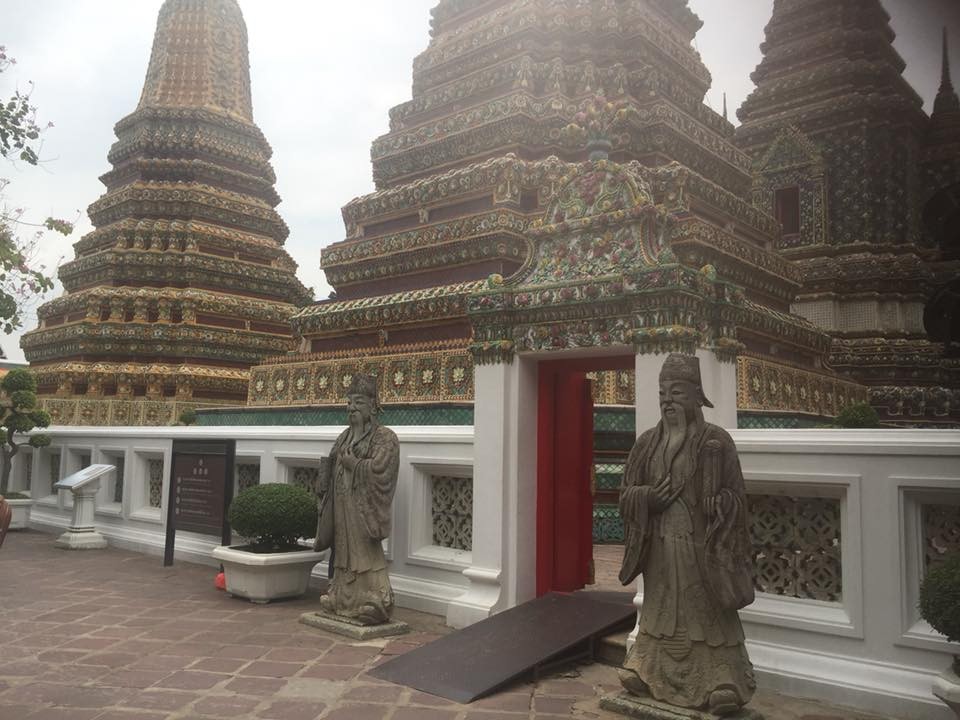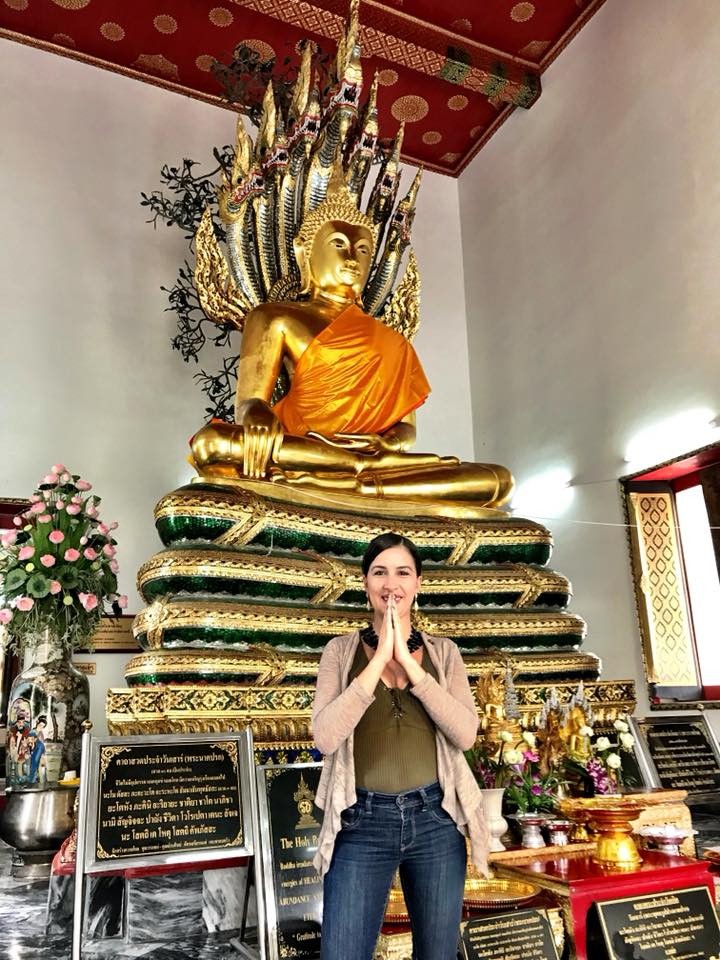 Gisele is in love with all these statues of Buddha. This one has seven snake or dragon heads protruding from its back.
The temples in Bangkok are not to be missed if you get a chance to visit. Even with swarms of tourists walking around, they inspire awe with their beauty and sheer size.
Muay Thai In Bangkok
Another cool thing that happened was that I took Gisele to her first Muay Thai class.
If you've never heard of Muay Thai, it's Thailand's famous form of kickboxing. It's so effective that every professional MMA fighter in the world trains in this art.
The important thing about this adventure was that Gisele didn't think that Muay Thai was going to be for her. And that she would never be able to do well in it. But 1 hour later, her private lessons made her realize that Muay Thai could be just the thing she needs for better health and more focus in her life—and I agree!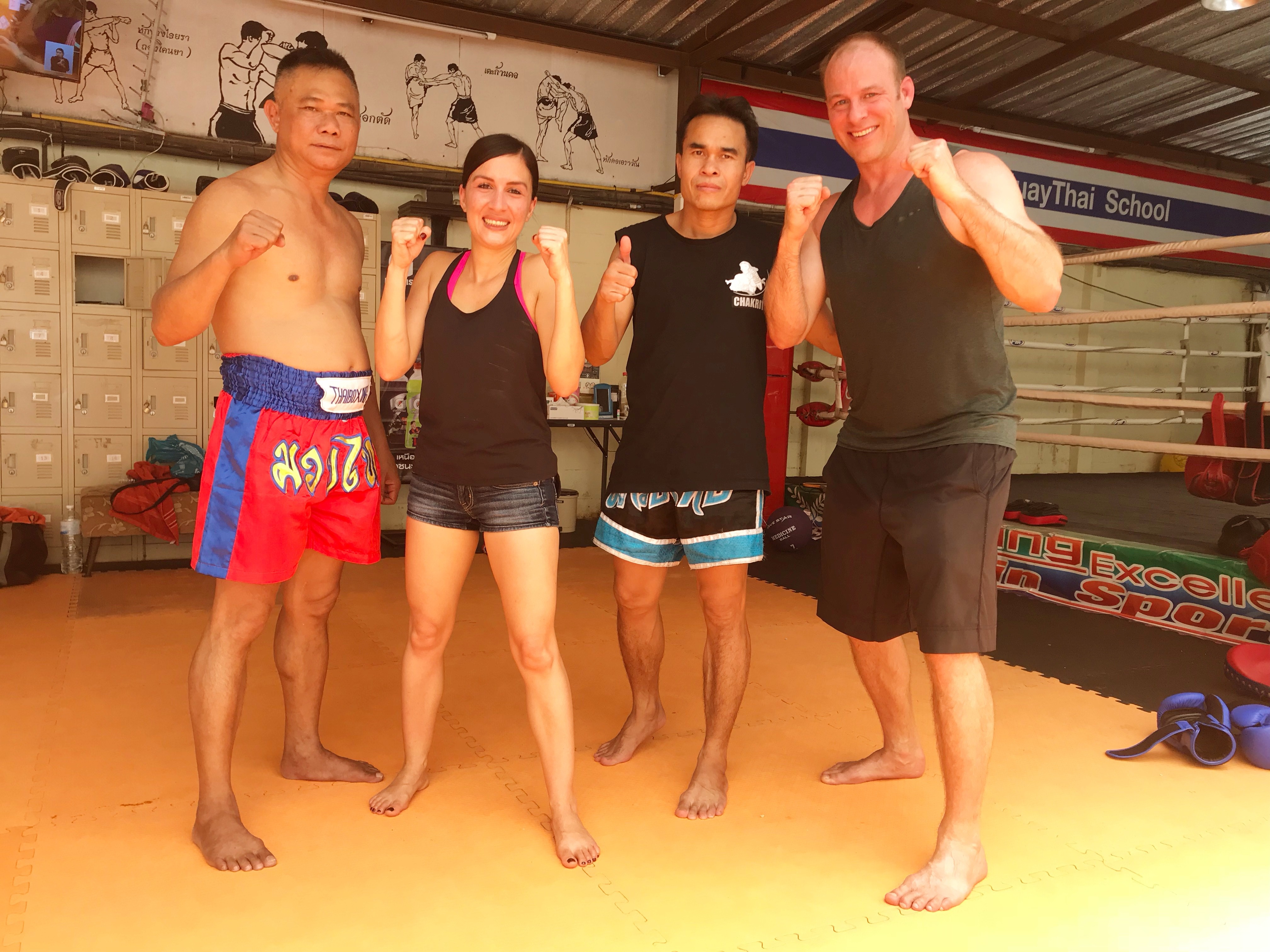 Gisele and I with our private Muay Thai instructors.
Make sure you listen to the episode to hear the full story on Gisele's first Muay Thai lesson and what she learned from the experience.
Hello Vietnam!
After spending 3 months in Bangkok, Thailand it was time to explore somewhere new.
There were several choices of countries to visit but we decided on Vietnam based on a few factors.
Vietnam is currently on the 2018 Tripadvisor's 25 top world destinations. Visitors flock to Vietnam for its natural beauty, cheap prices, vibrant nightlife and memorable travel experiences.
To be honest, I was initially a little nervous because of the relationship America and Vietnam had in the past.
In fact, I'm willing to bet you've only heard of Vietnam because of the war that America was involved with there.
Despite the past, I was welcomed into Vietnam and was granted a 30-day visa to explore the city.
So we booked our place and set off to spend a month in Saigon (officially known as Ho Chi Minh City).
Mekong Delta
Our first trip in Vietnam was to the Mekong Delta just of Saigon.  It's a vast maze of rivers, swamps and islands. It's also home to floating markets, pagodas and villages surrounded by rice paddies.
Before we made our way to there, we bought some conical hats and stopped by a temple to see some giant statues of Buddha.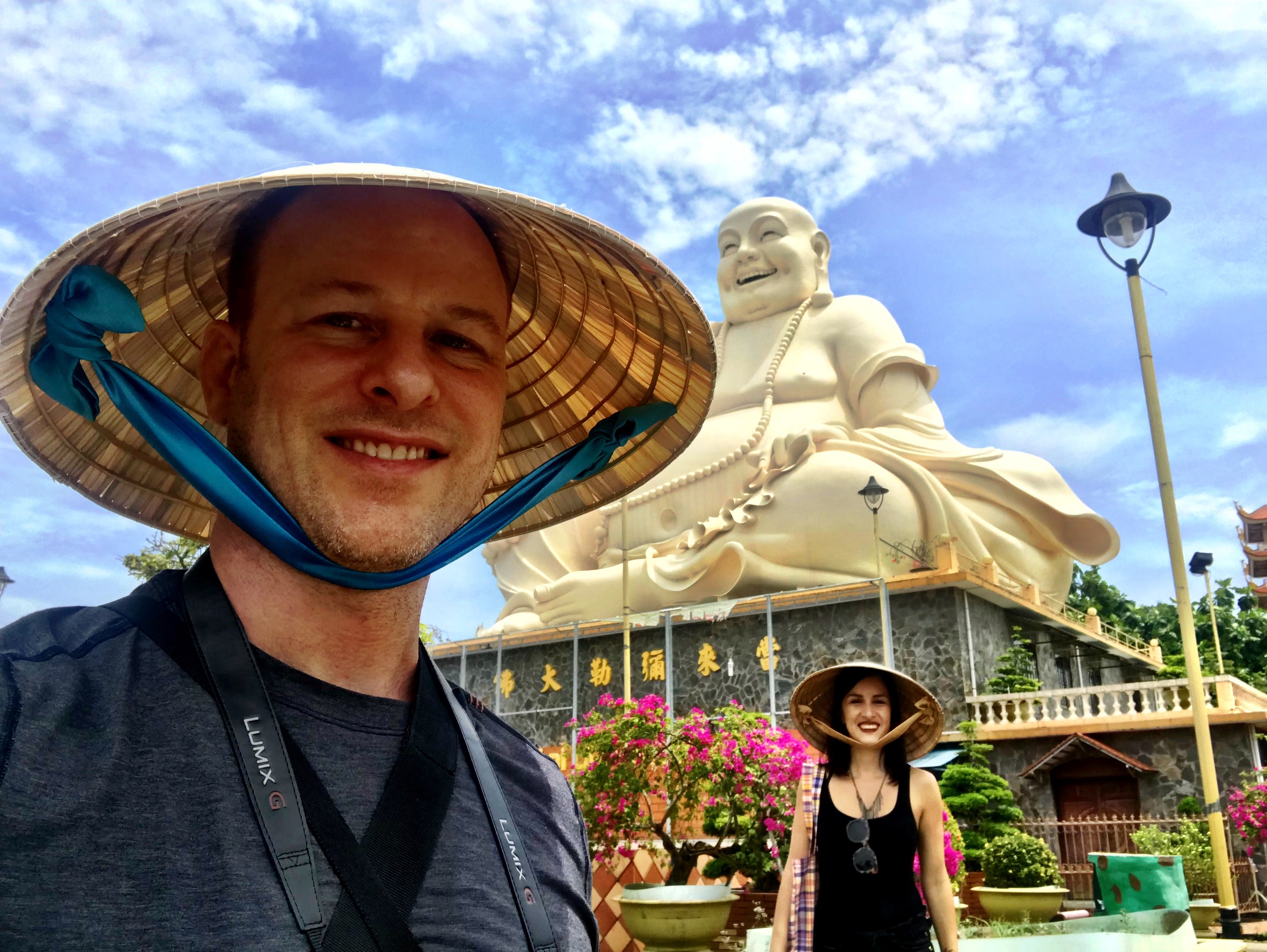 Me, Gisele, and a giant laughing Buddha.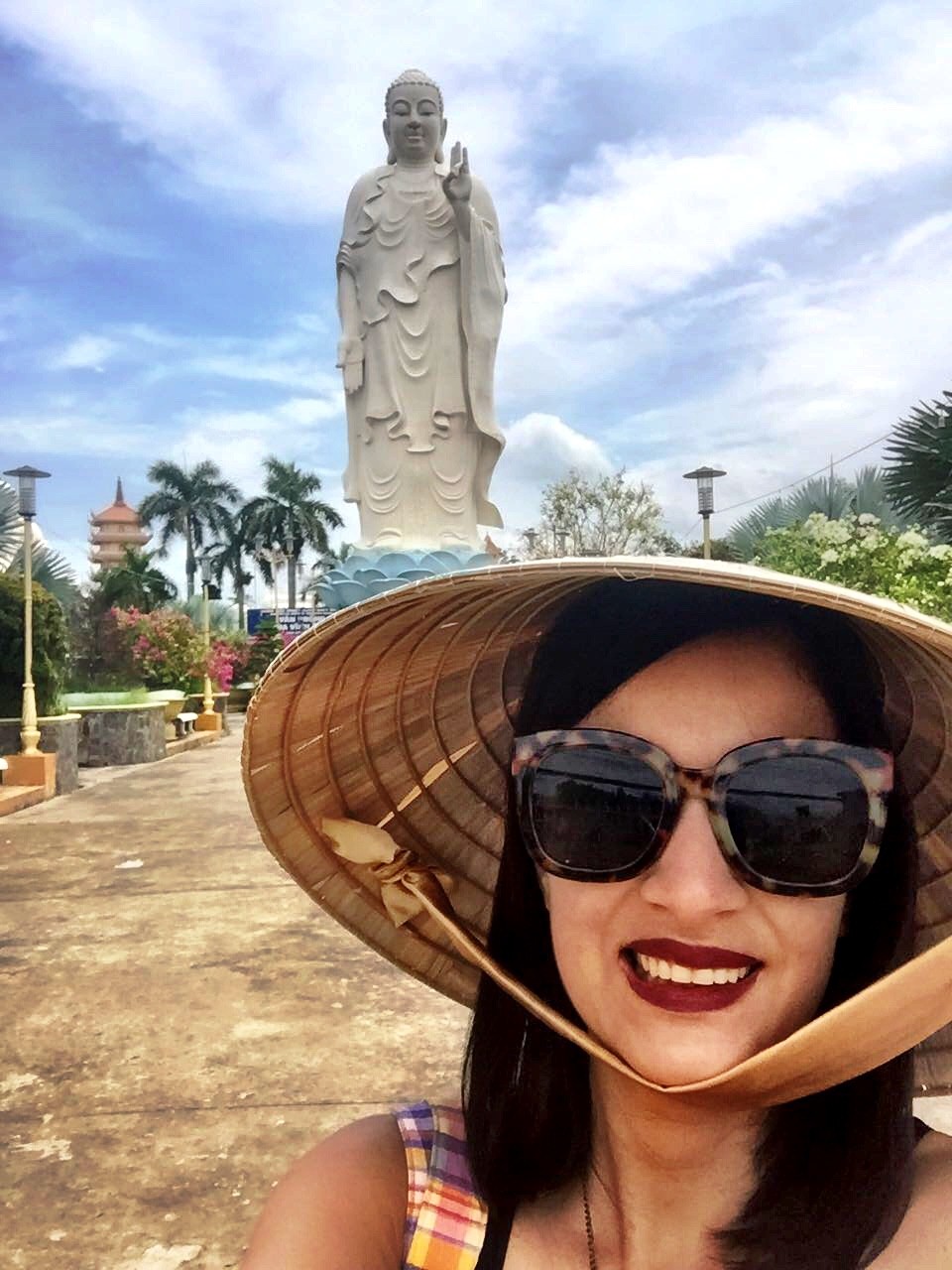 Gisele and another giant Buddha statue.
After the temple, we arrived at the Mekong Delta. From there we rode bikes down a path through the jungle to have lunch at the local village.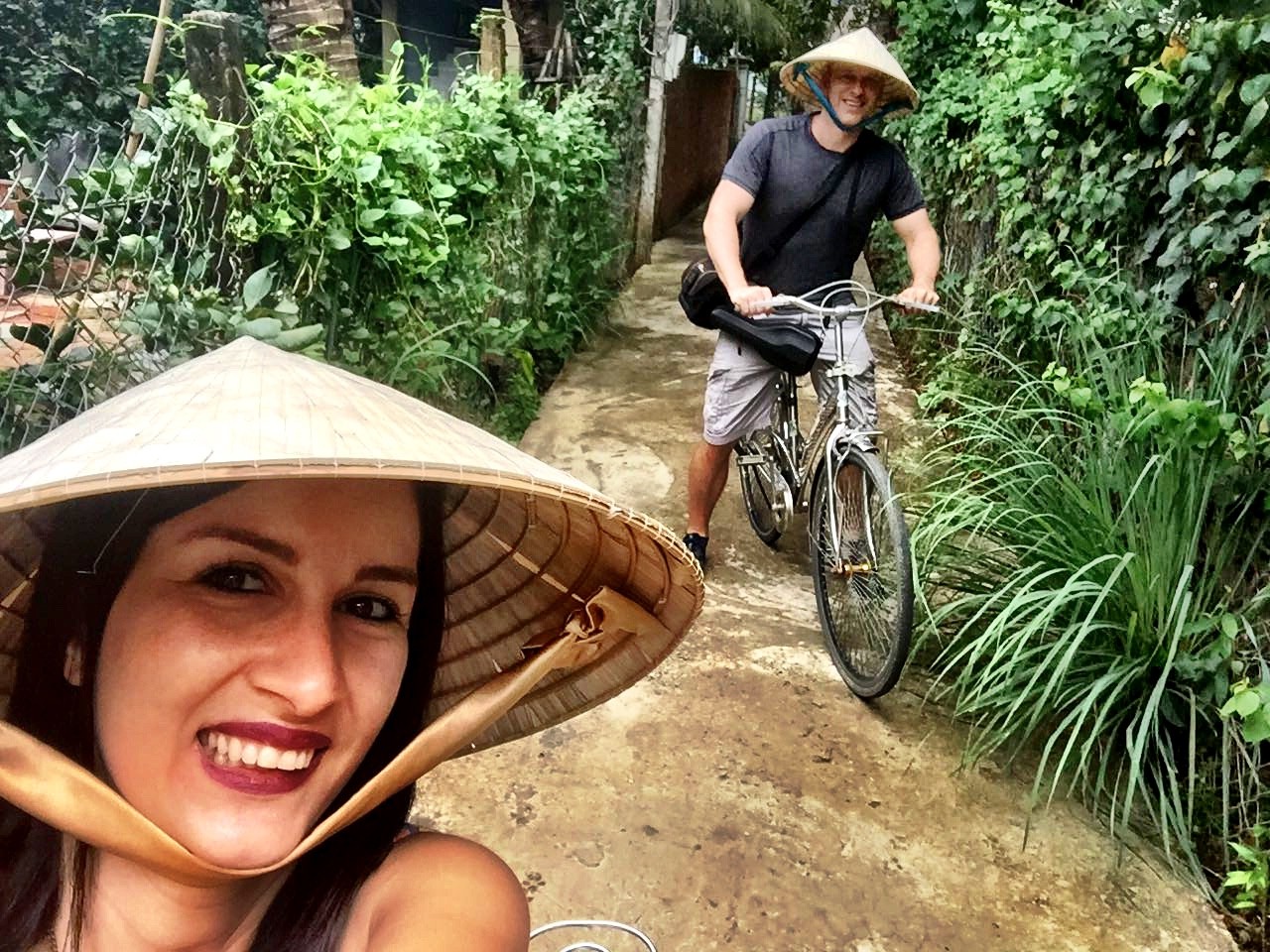 Boats are the main means of transportation in the Mekong Delta. So after lunch we hopped on a boat and took a ride.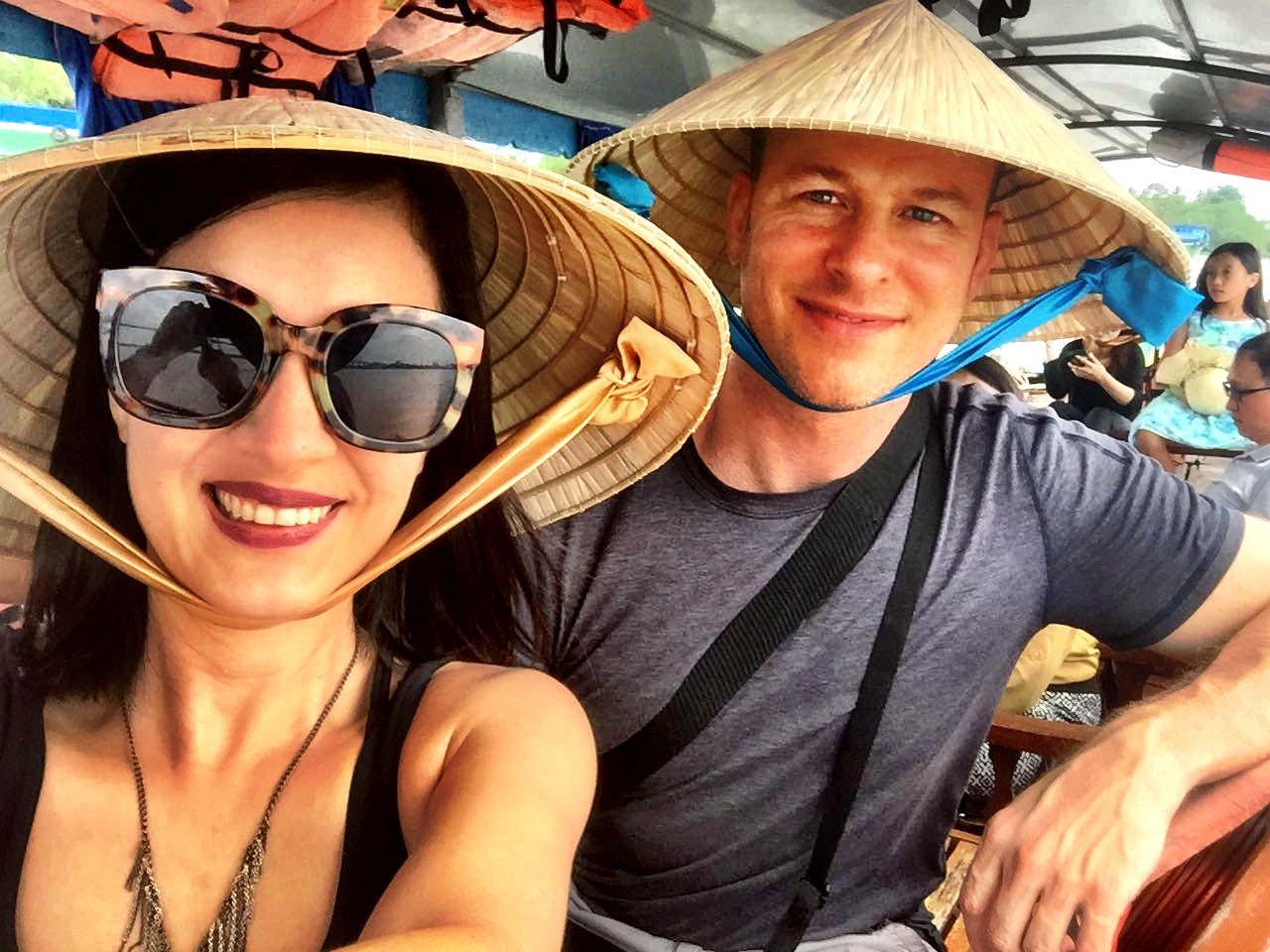 Although I didn't take photos of it, we ate coconut candy, drank honey tea, and I even held a snake. The perfect afternoon trip to get our minds off all the work we have to do.
Cu Chi Tunnels
Our next adventure was to go to the Củ Chi District to visit the tunnels. The tunnels of Cu Chi are a vast network of underground tunnels located in Ho Chi Minh City (Saigon), Vietnam.
Although our guide told us that the tunnels were built during the French occupation of Vietnam, they became infamous during the Vietnam War.
Besides crawling through tunnels, we saw relics from the war and I even got to shoot an AK-47 at the range there.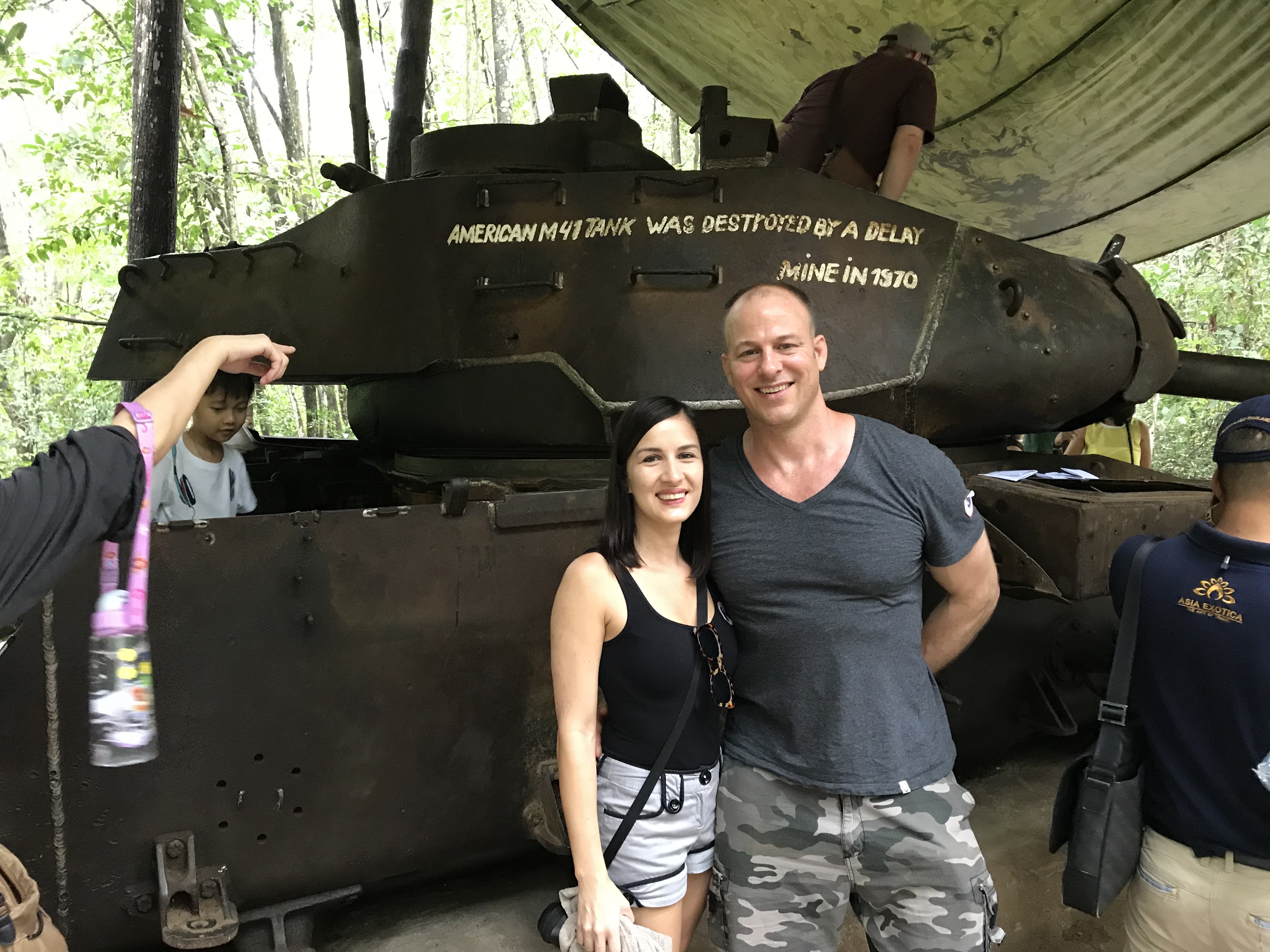 Gisele and I in front of an American tank that was destroyed by a landmine in Cu Chi.
We had a great time. But it was a little weird for me being an American. Not that weird—but definitely a little.
I was born right after the Vietnam War ended. So I didn't live through it like my father and many others did. But I did watch all the Hollywood movies depicting the War…
Apocalypse Now.
Platoon.
Full Metal Jacket.
Casualties of War.
I put aside what I thought I knew about the Vietnam War, why it happened, and just took in the perspective being presented to me.
Some of it made sense. Other parts seemed very hard to believe. But I wasn't there for that.
Onwards And Upwards
My time in Vietnam is coming to an end. And I already know that I want to come back. There are so many beautiful places to visit. Hoi Ann, Ha Long Bay, Hanoi, and more.
The most powerful lesson I took away from my experience in Vietnam was from the people. They've been through so much. Yet their optimism shines through and their country's economy is on the rise.
My new friends in Saigon say that most people they know don't talk about the war much.  It's not just about avoiding uncomfortable conversations about the countries dark past either—it's just in their nature to push on and move forward.
No country should ever be defined by war. Vietnam is a place with a rich cultural history, natural beauty, and amazing food.
The national flower of Vietnam is the Lotus flower. To the Vietnamese, lotus is represents a commitment and optimism of the future because it grows out of muddy water and rises above the surface to bloom with remarkable beauty. And much like the lotus flower, the people of Vietnam have endured hard times only to emerge on the other side as a country and people full of life and an eye towards the future.
I hope you enjoyed this bonus episode and the mind-blowing lessons we learned from living on the other side of the globe. We are now in Phuket, Thailand and we will make an other update in 4 weeks. Talk soon!
Ted and Gisele
Want help becoming the healthiest, fittest, strongest version of yourself 3X faster?
Maybe it's been a while since you've been in shape, or felt energized throughout your entire day, or felt capable and confident enough to do what you truly want.
If you're ready to have the body you deserve and get in control of your health and fitness once and for all, you should watch our new FREE Masterclass: Fit Over 40: How To Lose Fat, Build Strength, And Live A Healthier Life In Your 40s & 50s!
In this brand new masterclass you will learn everything you need to create a leaner, stronger, and healthier body even if you're injured, unmotivated, or super busy.