Special Announcement:
– We only have 2 weeks more to go with the Kickstarter campaign.
– Also, we have a new FREE 4-Week Workout. Download Now.
Review of the Week:

Question: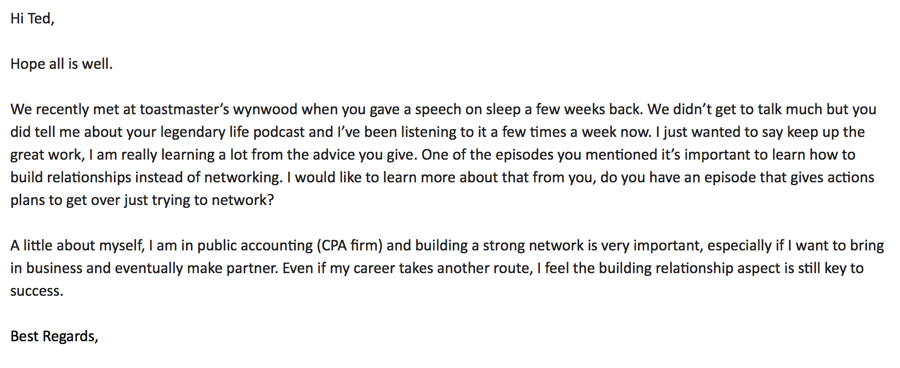 – Sardou
Answer:
Story
Build Your Communication Skills
Toastmasters
Improv Acting
Traveling
Attending events, seminars, meet up groups regularly
Practice EVERYWHERE you go, start conversations with
Networking is Building Relationships
Seek to understand before being understood
Ask questions
Be an active listener
Authenticity i.e. Be Yourself
Know your values
Be confident in yourself
Become an interesting person
Don't sell
The only question that's on people's mind: "What's in it for me?"
Be what Zig Ziglar called an "assistant buyer"
Look to match what you do with what people need
Be a connector and introduce people to each other
Be generous; be a giver
Follow-up
Resources:
The Charisma Myth by Olivia Fox Cabane
Zig Ziglar's Secrets of Closing The Sale
7 Habits of Highly Effective People
How To Win friends and influence people
Thanks for Listening!
Thanks so much for joining us again this week. Have some feedback you'd like to share? Leave a note in the comment section below!
If you enjoyed this episode, please share it using the social media buttons you see at the top of the post.
If you have any questions (or would like answers to hear previously submitted voicemail questions!), head on over to the ASK TED section.
Don't forget to visit our FREE TOOLS section and get our VIP content that will help you live a Legendary Life.
Until next time!
Ted