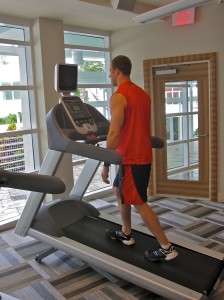 In this post, I'm going to give you some advice to ramp up your cardio workouts so you can start getting results…so let's get to it:
I don't want you to get on the treadmill without some incline unless you have an injury that prohibits you from doing so or a doctor has told you not to. Using the incline is more doing resistance training than cardio. You'll find that your glutes (butt muscles), hamstrings, and calf muscles start to burn and give out before your heart get tired. It's ok; that's what we are going for here.
As an example, if you've been walking or jogging for 30 minutes with no incline, then I want you to crank up the incline to at least 5%. If you're in really good shape then try 10%. You might not be able to last 30 minutes but the idea here is to challenge yourself to force your body to adapt to the added stress.
If you're looking to build some muscle, then add incline every workout until you have reached the maximum (15% is the maximum on most machines). You'll find the back of your legs, from your butt to calves, getting more developed and muscular. Once you have maxed out the incline, you can start adding speed. As you add speed, you might have to scale back on the incline a bit. No problem. Just start at a lower incline that's tolerable at the new speed and work your way back to the maximum incline over the next several workouts. Just make sure you are either adding incline or speed every workout; even if it's just a little. This is all about incremental progress.
If you're looking to burn fat and slim down, focus more on the speed. Work your way up to 10% incline from wherever you are now. Start adding speed once you can complete your workout at 10% incline. Same thing applies here: you may have to drop the incline a little as you increase the speed. That's not a problem, just work your way back up to 10% at the new speed after several workouts.
For both situations, you will want to warm up for five to ten minutes before  you start with the speed and incline. Also, you will reach a point in your workouts where you won't want to increase the speed any more for a long duration workout (30-60 minutes). In future blog posts, we will talk about how to progress from the workouts described here to interval training and sprint training to get even better results.