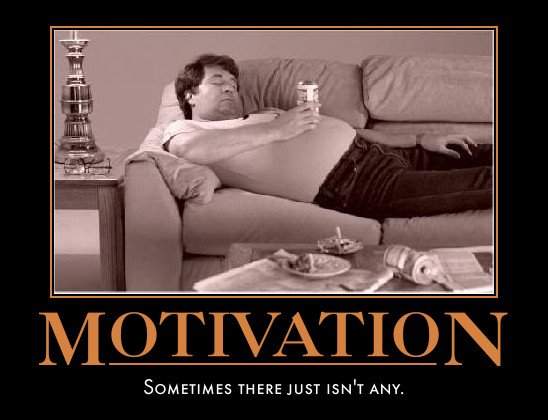 Lately I've been super motivated to workout and I've been posting my results to Facebook. This prompted a couple of people asked me what my secret is. Well, I'll you…
Many people don't know (because I don't talk about it much) but I was a competitive martial artist. I've been training martial arts ever since I was 12, and I've been doing Brazilian Jiujitsu for the past 7 years. I've been in more Brazilian Jiujitsu competitions than I can remember. The point is I take this stuff seriously.
However, I stopped doing doing jiujitsu for nearly a year because of a combination of work and a knee injury….BUT I just started going a couple of weeks ago and during my first time back, I got horribly winded. That annoyed me so much that I've been motivated ever since. My workouts are now built around doing well for my Jiujitsu classes.
What is my point?
The point is that sometimes we need a bigger reason to motivate us. I went from "I work out to be look good and be healthy" to "I work out so I don't get my butt kicked when I go to Jiujitsu" and I'm recommending that you find YOUR reason to motivate YOU.
Here are my top 4 motivators:
1. Hire a Personal Trainer. Ok, so maybe I'm a little biased on this, but that's because I really believe in what I do. There is nothing better than working with a good trainer 1-on-1 to address your goals as an individual. If you're ready to get the best results ever from a personal trainer who has both the technical expertise and coaching experience, then contact me and we'll set you up on a program for success.
2. Join a Group. Group exercise is really big right now and it is easy to understand why. Going to workout with a group of people who have a similar interest in getting fit keeps people coming back for more. Working out with a group gives you that much-needed social interaction that just going to the gym lacks. Going to a bootcamp instead of a happy hour will get you fit while you make friends and won't leave you with a hangover.
3. Try a Sport. Being involved in Brazilian Jiujitsu is what motivated me to start taking my workouts more seriously. Want to try something hardcore? Try a martial art like boxing, Thai boxing or Brazilian Jiujitsu. Want something a little less intense? Try a kickball league or tennis.
4. Sign Up For a Race. Signing up for races like a 5k or 10k, or one of the number of Tough Mudder or Spartan Race can give you something to train. If you want to have a professionally designed sports-specific program so that you show up ready, contact me and we can discuss what you are looking to achieve.
5. Keep a Exercise Record. Keeping track of your progress (and what you eat) can really help you stay motivated. Looking at the progress you've made over time can keep your spirits up even when you don't feel like exercising. At Ryce Fitness, I take before/after photos and regular measurements to keep people on track. Even clients that didn't want to do the measurements and tracking always like it when they can see progress. Try it!
Did you try some of these? Did they work or not work for you? Questions or comments? Let me know in the comment section below!