Brief Bio:
Jeff Sanders is a keynote speaker, author of The Free-Time Formula, The 5 AM Miracle, and founder of The Rockin' Productivity Academy.
Jeff is also the host of The 5 AM Miracle Podcast, which has ranked #1 in iTunes in the Self-Help and Business categories, been nominated for 5 Podcast Awards, and exceeded 5 million downloads.
He is a plant-based marathon runner and personal development junkie. Every week you can find Jeff writing and speaking at JeffSanders.com.
Jeff has a Bachelor of Arts degree in Theatre and Psychology from Truman State University in Kirksville, Missouri. He has been married to his wife, Tessa for seven years. They live in Nashville, Tennessee with their quirky pug, Benny.
In this episode, you'll learn:
-Why Jeff ended up in the emergency room after taking on too many projects (5:000)
– How to create more free time for the things that matter (8:17)
– Why learning to say "no" can lead to better productivity (11:28)
– Why being a "control freak" can lead to less productivity and time for the things that matter (14:45)
– Why underbooking your calendar is a must to get more things done (17:53)
– How to set your priorities effectively (so you know what to say yes to and what to say no to) (22:00)
–  Why no exercise can reduce your stress as much as healthy productivity habits (25:25)
– Does making time to exercise get in the way of your career success? (33:37)
– The #1 addiction of 90% of Americans (and how to break it) (37:56)
– The best use of your free time when (44:46)
Connect With Jeff:
Order The Free-Time Formula Book: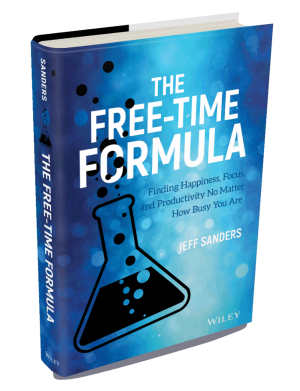 Want help becoming the healthiest, fittest, strongest version of yourself 3X faster?
Most people over 40 know that exercise, eating well, and quality sleep are important for looking and feeling better. Yet they need help applying that knowledge in the context of their busy, sometimes stressful lives.
If you've recently tried to follow a workout program that you used to do in your twenties, you probably noticed that it isn't as effective as it used to be! When you are in your late 30s, 40s, and 50s, you need a workout designed for your age and lifestyle. So, you can exercise without straining your body, feeling exhausted afterwards or even getting injured and taking too many days to recover.
My 6-week customized workouts are designed to make you workout smarter, not harder.This is a program specifically designed for people over 40 is packed with everything you need to k to finally create that leaner, fitter, and healthier body that you've always wanted.
I'm offering my customized workout program with a special price, so you have no excuses to transform your body in the next 6 weeks.
PLUS: If you buy in the next 48 hours, you'll have direct access to me and you can ask all your burning questions in this one coaching email that you get as a bonus. Also, I'll give you specific advice for nutrition and supplementation, so you can get results faster.