Brief Bio:
Jeff Sanders is a keynote speaker, productivity coach, author of The 5 AM Miracle and The Free-Time Formula, and founder of The Rockin' Productivity Academy. He is also the host of The 5 AM Miracle Podcast, which has been called the one of the hottest productivity podcasts by Inc. Magazine, ranked #1 in Apple Podcasts in the Self-Improvement and Business categories, been nominated for 6 Podcast Awards, and exceeded 8 million downloads.
In this episode, you'll learn:
Why Jeff ended up in the emergency room after taking on too many projects (5:00)
How to create more free time for the things that matter (8:17)
Why learning to say "no" can lead to better productivity (11:28)
Why being a "control freak" can lead to less productivity and time for the things that matter (14:45)
Why underbooking your calendar is a must to get more things done (17:53)
How to set your priorities effectively (so you know what to say yes to and what to say no to) (22:00)
Why no exercise can reduce your stress as much as healthy productivity habits (25:25)
Does making time to exercise get in the way of your career success? (33:37)
The #1 addiction of 90% of Americans (and how to break it) (37:56)
The best use of your free time when (44:46)
And much more…
Like this show? Please leave us a review here — even one sentence helps! Consider including your Instagram handle so we can thank you personally.
Related Episode:
252: 3 Simple Ways To Remove Distractions And Boost Productivity with Jeff Sanders
136: Productivity Hacks To Dominate Your Day Before Breakfast With Jeff Sanders
Links Mentioned:
Connect with Jeff Sanders:
The Green Pen Strategy to Amplify Your Success
Order The Free-Time Formula Book: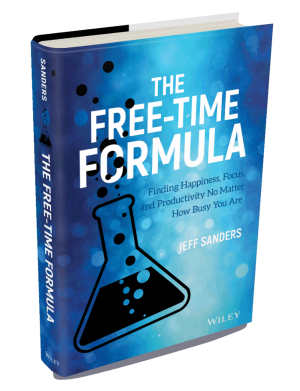 Do You Need Help To Create A Leaner, Stronger, And Healthier Body 3X Faster?
Maybe it's been a while since you've looked forward to beach season, or felt energized throughout your entire day, or felt capable and confident enough to do what you truly want.
If you're ready to have the body you deserve and say goodbye to dieting forever, we're ready to help.
1) Watch our current free on-demand training workshop on the exact process and method we are using to help our clients create a leaner, stronger, and healthier bodies 3X faster than traditional methods that don't work long-term!
2) Work with me and my team directly in the Legendary Life Program and get started reclaiming your health and creating the body you've always wanted right away. Marvel at the testimonials here first then schedule your call.