Eat these foods often to boost your health and prevent disease.
Kale, kale, kale.
Seems like kale has become quite a celebrity these days. And yes, it really does have plenty of benefits—including high levels of folate and more calcium, gram for gram, than a cup of milk. But kale is a superstar compared to all the other vegetables.
Take Joe Rogan and his kale shake recipe for example. Joe Rogan's kale shake recipe is so popular that his Twitter followers have retweeted his recipe over 500 times: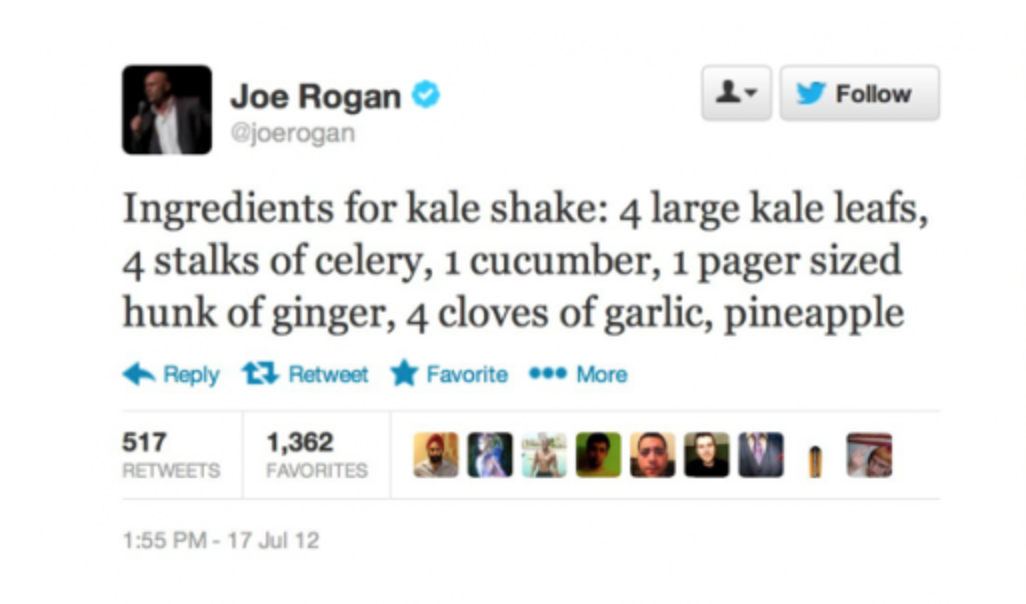 Even superstars like Beyonce are repping kale: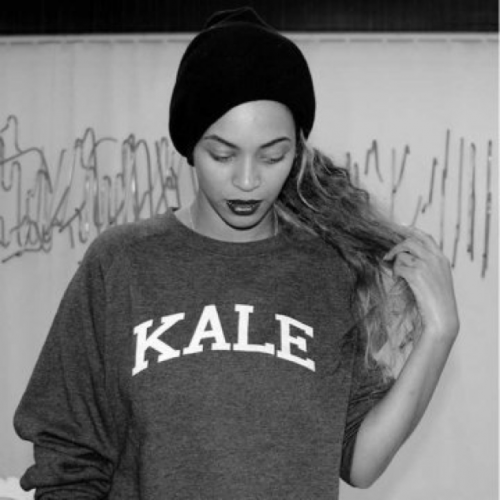 And if you look at the kale hashtag on Instagram it has nearly 3 million posts: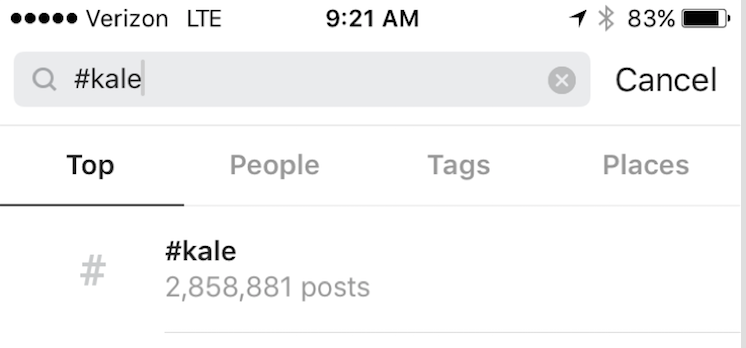 But you have to ask if kale really deserves all it's fame as a superfood vegetable or if it's like Kim Kardashian—famous for being famous.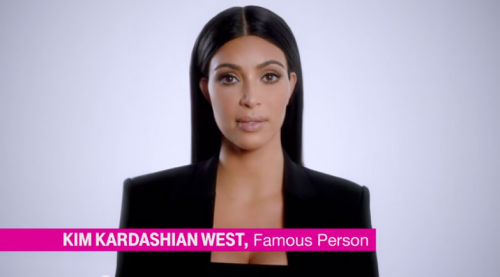 To help us answer this question, let's look at a food list that the CDC put out called Defining Powerhouse Fruits and Vegetables: A Nutrient Density Approach.
Notice: Food lists that you find on the interwebz are usually more marketing hype than factual content. But when the CDC develops a new classification scheme and ranks them by nutrient density, it's the real deal.
By the way, "Superfood"= "nutrient-dense" food.
The CDC has chosen to use the term "Powerhouse" but it all comes back to the idea of nutrient-density.
Nutrient density is the ratio of nutrients (vitamins, minerals, phytochemicals, etc) to calorie content.
So if a food is high in nutrients but low in calories, that food is said to be nutrient-dense. Coversely, if a food is high in calories but low in important nutrients then it is considered to be calorie-dense.
The best part of nutrient-dense foods is that they pack a powerful nutritional punch for a minimal amount of calories.
Anyway, back to the CDC research…
Their study developed a classification scheme defining Powerhouse Fruits & Vegetables as foods providing, on average, 10% or more daily value per 100 Calories of 17 qualifying nutrients:
Potassium
Fiber
Protein
Calcium
Iron
Thiamin
Riboflavin
Niacin
Folate
Zinc
Vitamin A
Vitamin B6
Vitamin B12
Vitamin C
Vitamin D
Vitamin E
Vitamin K
Why should you care?
These are the nutrients most strongly associated with reduced chronic disease risk based on research, according to the CDC's paper.
So, if you want to improve your health and prevent chronic disease, you should stop everything you are doing now and pay full attention to this article.
And even share with your family and friends that want to optimize their nutrition to live a long and healthy life.
Here's the truth: Eating the right foods can lead to a longer, healthier life.
Is that what you're looking for?
Let's take a look at the chart below, where out of the 47 fruits and vegetables they studied, 41 made it to "Powerhouse" status.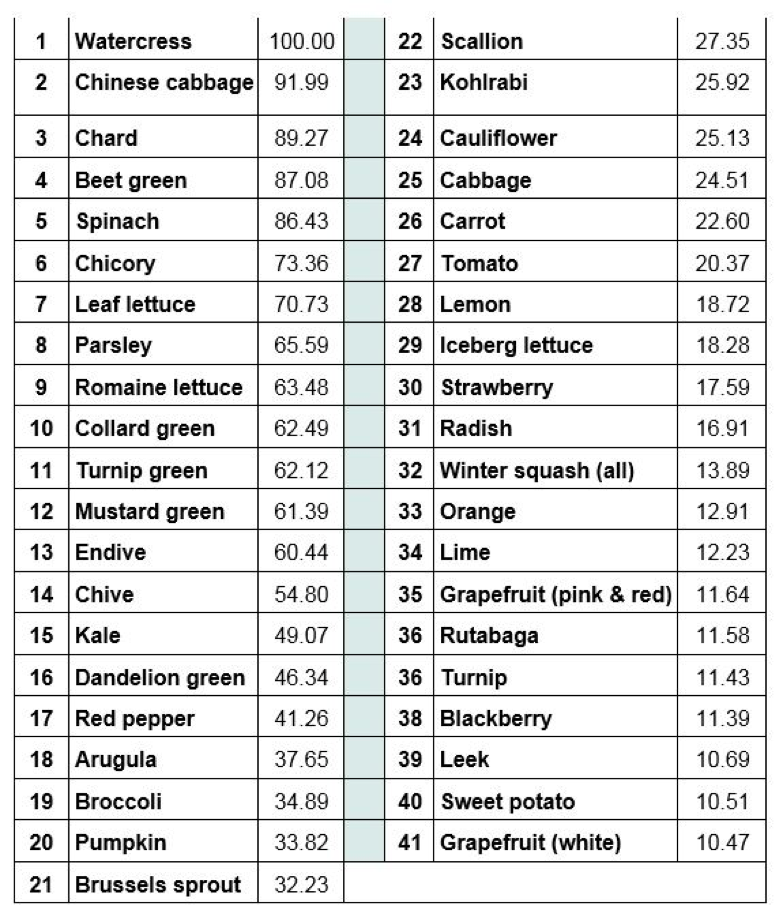 As you can see, kale is #15 on the list.
Here's a roundup of the top 3 leafy green that researchers say pack a greater nutritional wallop.
I'll even share my favorite one at the end. Read them, eat them and reap on the benefits of preventing prevent disease and even reverse some nutrient deficiencies that may play a role in developing major health issues.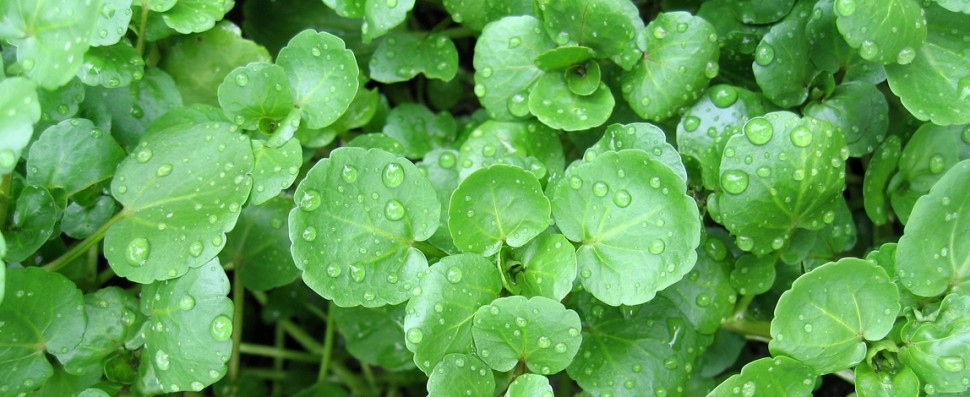 Powerhouse #1: Watercress
Nutrition Score: 100
The gold medalist watercress is the winner and may also be the closest thing yet to a true anti-aging food.
Gram for gram this mild-tasting and flowery-looking green contains four times more beta-carotene than an apple, and a whopping 238 percent of your daily recommended dose of vitamin K per 100 grams—two compounds that keep skin dewy and youthful.
The powerhouse food is also the richest dietary source of PEITC (phenylethyl isothiocyanate), which research suggests can fight cancer.
Pro Tip: Exposure to heat may inactivate PEITC, so it's best to enjoy watercress raw in salads, cold-pressed juices, and sandwiches.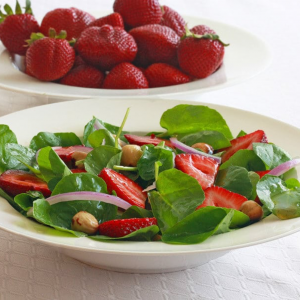 Watercress Salad with Strawberries and Walnuts
This strawberry and watercress salad recipe is quick, easy, healthy, and perfect to take to work for lunch. Plus, watercress supplies an outstanding array of nutrients, including fiber and the antioxidant vitamins A and C.

Ingredients
2

bunches

watercress

washed and bottom of stems cut off (arugula and also work nicely)

1/2

cup

red onion

cut in half and thinly sliced

3/4

cup

fresh strawberries

sliced (mango and also work nicely)

1/4

cup

roasted walnuts

see instructions

1/4

cup

fresh lemon juice

(about 2 lemons worth)

2

pieces

garlic cloves

microplaned or finely minced

1

teaspoon

honey

1

pinch

salt and pepper

3

tablespoons

extra virgin olive oil
Instructions
Preheat the oven to 350 degrees F.

Spread the walnuts out on a small cookie sheet and roast for 10-15 minutes, tossing occasionally to prevent burning. When toasted and blistery, remove them from the oven and pour them onto a clean kitchen towel. Wrap them and allow them to steam for a minute, then rub them in the kitchen towel to remove the skins (note, not all of the peel will come off).

For the lemon vinaigrette: combine lemon juice, garlic, honey and olive oil in a jar with a tight-fitting lid or bowl then shake or whisk to combine.

Place the watercress, red onion, strawberries and walnuts in a bowl, pour the dressing over and toss to coat. Serve immediately!

Notes
If you're trying to lose weight, use between 1-2 tbsp. of olive oil. Mango can be used in place of strawberry. Arugula can be used in place of the watercress, if needed.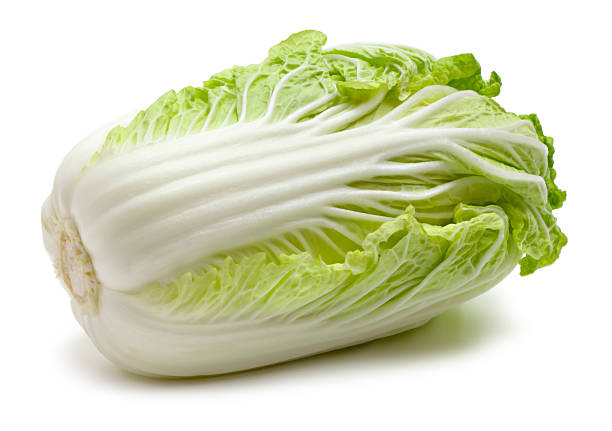 Powerhouse #2: Chinese Cabbage
Nutrition Score: 91.99
Taking the silver medal in the powerhouse food Olympics is Chinese cabbage, also called Napa or celery cabbage.
Cabbage is powerful. It was originally valued by ancient Romans and Greeks for its medicinal use for a variety of ailments including gout, headaches, and ingestion of poisonous mushrooms.
Modern nutritional science tells us its power comes from its high sulfur and vitamin C content. Either way – it's worth adding to your weekly diet.
Pro Tip: If you want healthy, youthful skin and a powerful immune system, then don't forget to add this highly nutritious vegetable to your diet.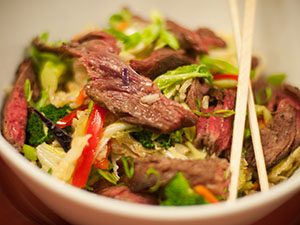 BEEF STIR-FRY WITH CHINESE CABBAGE
Here's a tasty, easy, and super healthy beef and Chinese cabbage recipe, that you'll love. This recipe is packed with a lot of protein and nutrients that can improve your health and boost your immune system.

Ingredients
1/2

pound

flank steak

(or skirt steak) sliced in strips along grain, 2 inches length

2

tablespoons

avocado oil

2

cloves

minced garlic

1

medium

onion

chopped

1

large stalk

celery

chopped

2

tablespoons

tamari sauce

2

tablespoons

rice wine vinegar

1

tablespoon

honey

1-2

cups

chinese cabbage

sliced 2-inch length

1

medium

seeded

sliced 2-inch length red or green bell pepper

1

cup

carrots

sliced

1

teaspoon

toasted sesame oil

quinoa or brown rice for serving
Instructions
In a large wok or skillet, over medium-high heat, add the cooking oil. After the oil has heated up in 2 to 3 minutes, add the garlic and vegetables. Cook until the vegetables are cooked but still firm.

Add the beef strips. Stir around the skillet till strips turn brown in about 2 to 3 minutes.

Add the tamari, rice wine vinegar, honey. Blend well with the rest of ingredients.

Cook until the meat is at the desired temperature. Season with sesame oil. Serve hot over rice.

Notes
You can substitute chicken or pork slices for the beef if preferred.
I'm always on the go and fast cooking helps me to get more things done through the day. I did a course with Wok Star Eleanor Hoh 1 year ago, and since then has been my secret weapon for busy days.
If you are like me and want to learn easy, healthy, fast cooking for busy lifestyles, check out her course here.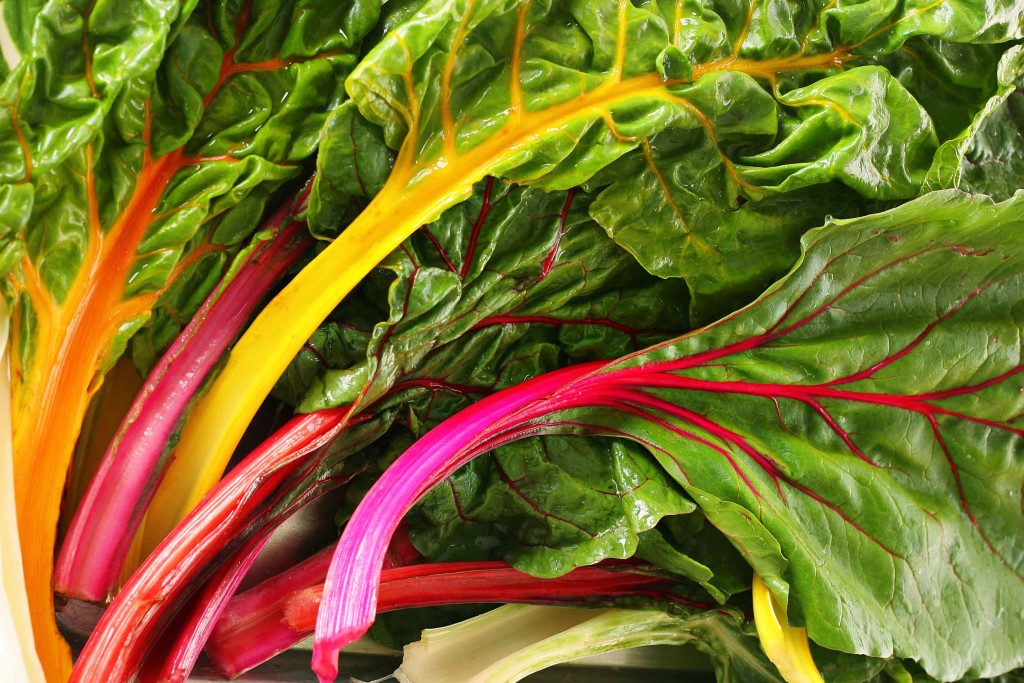 Powerhouse #3: Chard
Nutrition Score: 89.27
Chard. Some foods get no love. Whether it's because they have odd names or you just don't know where to find them in the supermarket, certain delicious foods always get passed over for less nutritious fare. That's Chard.
Like other leafy greens, chard is loaded with Vitamin K. Chard also has carotenoids like lutein and zeaxanthin, which can protect the health of your eyes.
Recent research has shown that chard leaves contain at least 13 different polyphenol antioxidants, including kaempferol, a heart-protecting flavonoid that's also found in broccoli, kale, strawberries, and other foods.
However, in addition to kaempferol, there's another powerful flavonoid found in chard called syringic acid. Preliminary studies conducted on diabetic rats suggest that Swiss chard, due to syringic acid, is extremely effective in regulating blood sugar levels.
Although further research is needed, chard is a definitely a powerhouse vegetables whose unique flavonoid phytonutrients profile may offer special benefits for normalizing blood sugar levels.
Pro Tip: The third-ranked superfood is versatile and can be eaten raw in salads or cooked. You can even put it in lasagna. Just try not to boil it as this cooking method will reduce the nutrients.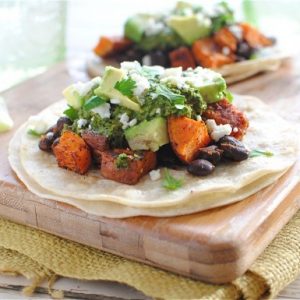 BLACK BEAN AND SWEET POTATO TACOS WITH SWISS CHARD PESTO
This healthy chard tacos recipe is loaded with superfoods like chard, black beans, and sweet potato, plus healthy fats like avocado and olive oil.
Ingredients
For the pesto:
1

bunch

swiss chard

cut into chunks

1

jalapeno

roughly chopped

3

cloves

garlic

roughly chopped

2

tbs

green hot sauce

1/4

cup

toasted pepitas

1

tbsp

extra-virgin olive oil

coarse salt and freshly ground pepper
For the tacos:
1

tbs

extra-virgin olive oil

1

sweet potato

cut into a medium dice

1

(14.5 oz)

can black beans

drained and rinsed

2

tsp

cumin

divided

2

tsp

chili powder

divided

1/2

tsp

garlic salt

8

white corn tortillas

1/4

cup

queso fresco

crumbled

1

avocado

diced

lime and cilantro for garnish

coarse salt and freshly ground pepper
Instructions
Preheat your oven to 400.

On a rimmed baking sheet toss the diced sweet potato with the oil, 1 tsp chili powder, 1 tsp cumin, a pinch of coarse salt and pepper. Roast for 30 minutes.

In the meantime, toss the swiss chard, jalapeno, garlic, hot sauce and pepitas into a food processor. Season with salt and pepper. Start pulsing. With the motor running, pour the oil into the processor in a thin stream, until you have pesto. Taste.

Toss the beans into a small sauce pan and season with the remaining cumin, chili powder and garlic salt. Heat through, 5 minutes.

On a small grill or skillet, toast the tortillas until you get browning or charred marks.

Layer 2 tortillas, then spoon on some beans, followed by sweet potatoes. Dollop with a good 2 Tbs. of swiss chard pesto. Sprinkle on the diced avocado, queso fresco, a good spritz of lime and a few cilantro leaves.
Notes
You're going to have a lot of pesto leftover. Freeze it up! You can add shredded chicken for extra protein.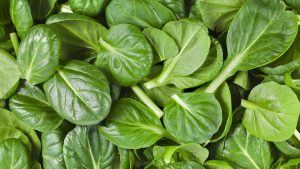 Powerhouse #4: Spinach
Nutrition Score: 86.43
According to the United States Department of Agriculture, a 180 gram serving of boiled spinach provides 6.43 mg of iron, the muscle mineral—that's more than a 6 oz hamburger patty!
Recent research also suggests compounds in the leaf membranes called thylakoids may serve as a powerful appetite suppressant.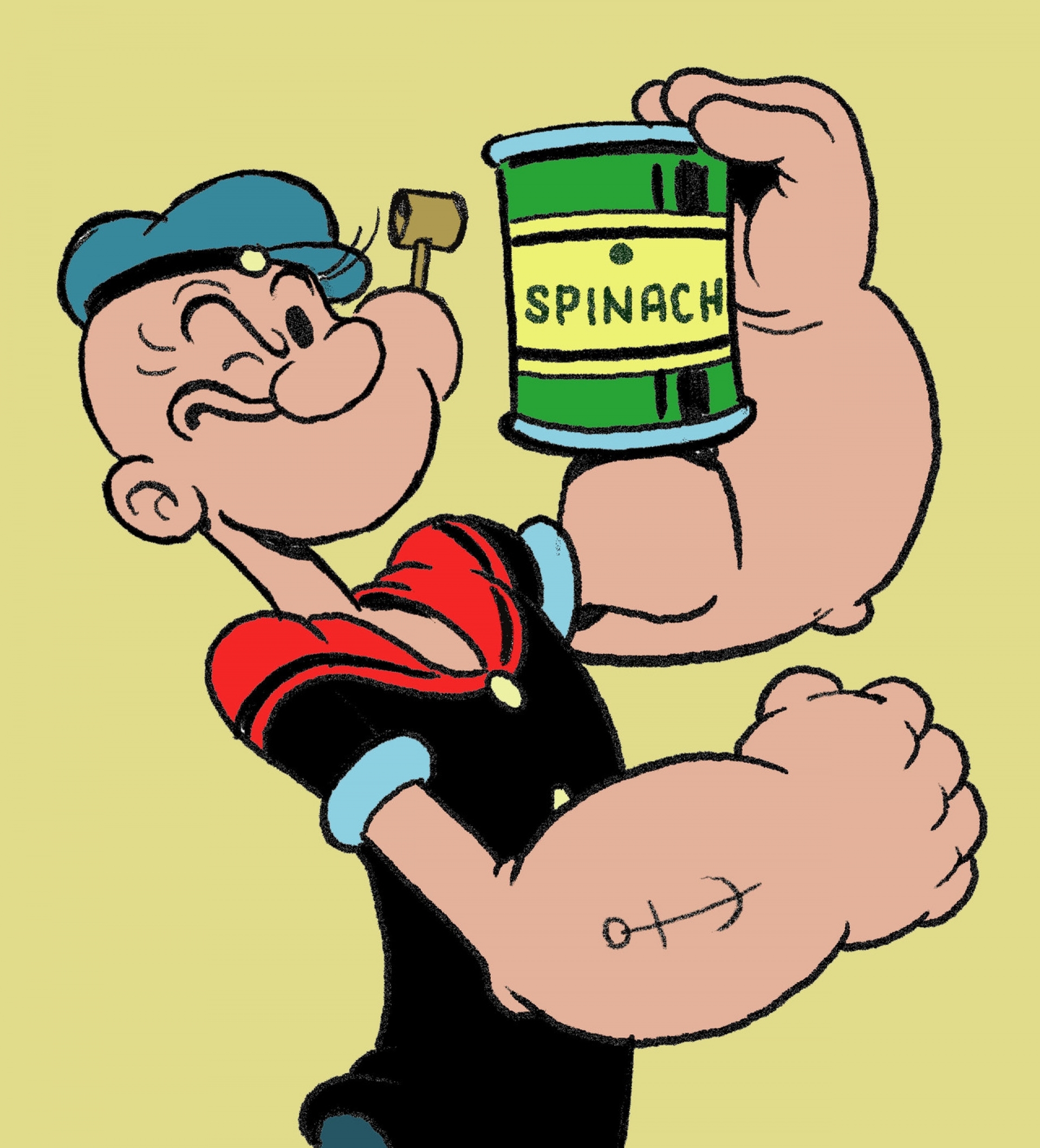 One can of the green stuff and Popeye, the sailorman, turned into a muscle-popping tornado of energy. He knew that spinach contains more nutrients per calorie than most foods on the earth.
Maybe it was all the Popeye cartoons I watched as a kid, because spinach is one of my favorite "superfoods" that I eat weekly.
I usually add spinach in my breakfast protein shakes or with my scrambled eggs. I also make spinach salads regularly too.
Pro Tip: Adding spinach to your breakfast or switching the morning coffee for a green juice with spinach can significantly reduce food cravings. There's some research that shows thylakoids (green-plant membranes) found in spinach helped overweight women curb their appetite for snacks and sweets.
If you have fewer cravings, you'll be inclined to eat less, which may lead to weight loss. Remember, overeating is what causes us to gain weight and put on fat.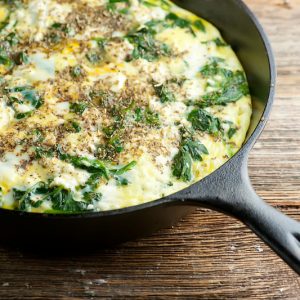 SPINACH FETA FRITTATA
This quick, easy and healthy frittata recipe is packed with spinach that is a superfood that helps you reduce your food cravings, improve your vision, and bone health according to research.
Ingredients
2

cups

spinach

1/4

onion

1

tablespoon

extra-virgin olive oil


1

1/2

cloves garlic


eggs

1/2

teaspoon

coarse sea salt

plus more to taste

1/4

teaspoon

fresh ground black pepper

2

tablespoons

cream

2

ounces

feta cheese
Instructions
Preheat oven to 400F. Chop spinach and onion. Mince garlic. Shred parmesan.

In a large mixing bowl, whisk together eggs, salt, pepper, cream, and optional Parmesan cheese; set aside.


Over medium heat, sauté onions in olive oil in a cast iron or other oven-proof pan until translucent. Add garlic and cook another minute. Add spinach and cook until just wilted and bright green in color. Spread spinach mixture evenly on the bottom of the pan.

Pour egg mixture evenly over spinach and onions. Crumble feta over the top of the frittata.

Place the whole pan in the oven and bake for 12-15 minutes until the frittata is nice and golden and the eggs are set.

Carefully remove the pan from the oven. Let the frittata cool for several minutes before slicing and serve.

Notes
If you trying to eat a low-calorie breakfast, please don't use parmesan cheese and feta cheese in this frittata recipe.
Related Post: 5 Reasons You're Not Losing Fat Even Though You Eat Right And Exercise (And What To Do About It)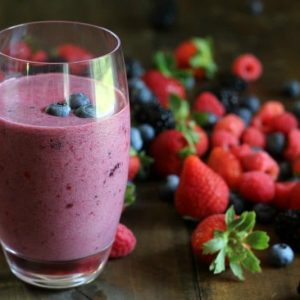 SUPERFOOD BERRY SHAKE
This five-min superfood shake will help you get all the nutrients and protein that you need to build lean mass, reduce food cravings, and boost your health. Try this healthy smoothie today!
Ingredients
6-8

ounces

water

2-3

cups

spinach

4

cups

frozen mixed berries

1/2

cup

plain low-fat yogurt

1

scoops

protein powder

2

tablespoons

ground flaxseed
Instructions
Now that you've added all your ingredients into your blender, it's show time.


I like to blend my smoothies until the liquid is fully circulating within the blender for about 5 seconds. Total blend time is usually 60-90 seconds.

Notes
This is a shake that I give to my coaching clients to have for pre or post workout and even breakfast when they're in a hurry. The flaxseed is optional.
If you can afford it, choose organic spinach.  Non-organic spinach is on the list of top foods with higher chemical pesticide residue. While it's still unclear to what extent pesticide residues pose a risk to our health, I prefer to err on the side of caution when I can.
You might be thinking about why you haven't heard about all these other "superfoods" and why you were just focusing on adding Kale to your diet.
Because that's what you've been seeing in the media. The media goes for splashy headlines and information that doesn't usually put things into proper context. And your average nutrition guru's blog isn't much better.
I write posts like this to help you get past the hype and confusion that most people have about health and fitness so you can make better decisions about what you eat and how you workout.
To illustrate my point, let's compare the social media popularity of the top 2 of the CDC's Powerhouse foods: Watercress and Chinese Cabbage.
Only 87k posts about watercress which has quite a bit more nutrients—and taste for that matter—than kale when comparing calorie for calorie.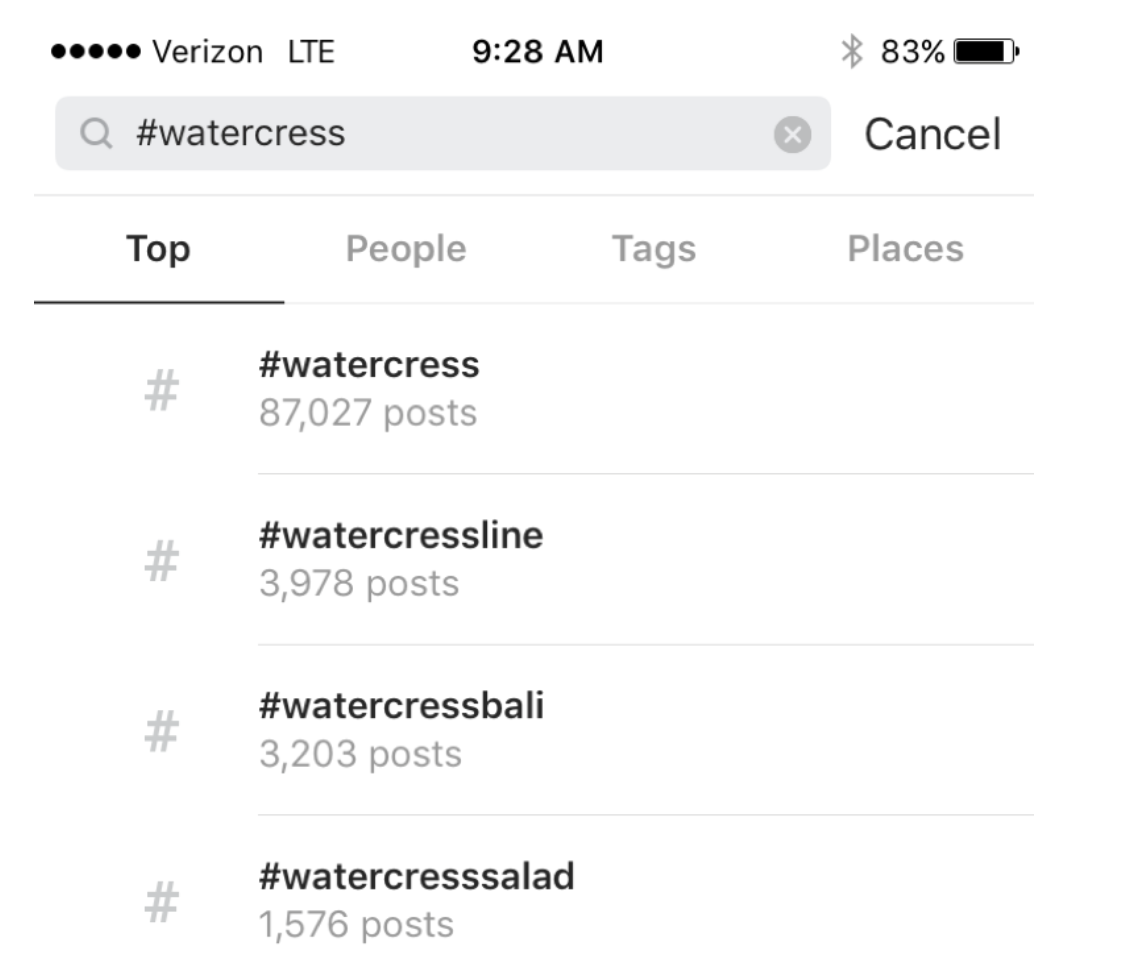 Only a measly 18k posts about Chinese cabbage, which came in second: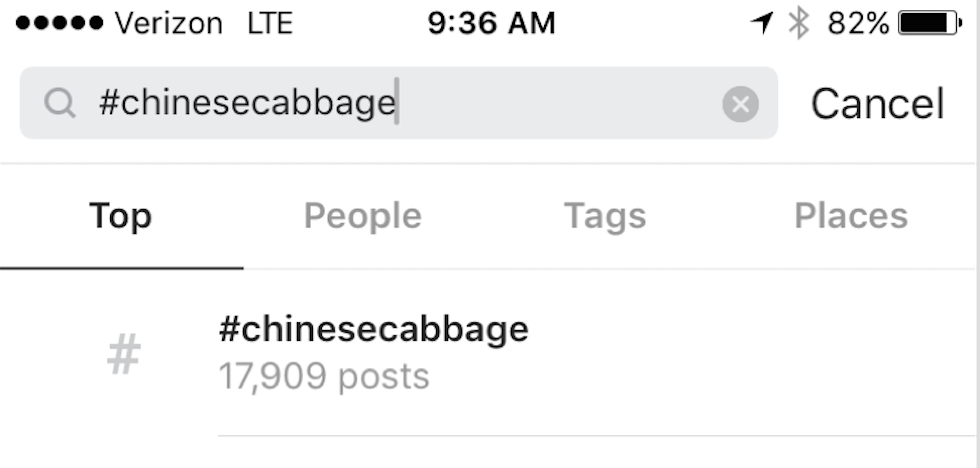 If kale were at the nutrient-density Olympics, it wouldn't even leave with a medal based on the CDC research.
Our gold medalist, watercress, has a nutrient-density score of 100. Our silver medalist, Chinese cabbage, has a score of 91.99. And kale, which came in at #15, has a nutrient-density score of 49.07.
So it seems like kale has won the popularity contest but doesn't quite have the nutritional power of the top Powerhouse vegetables.
This doesn't mean that kale isn't a good choice—it still is, as we'll see below—but there are other nutritious vegetables that deserve as much if not more attention.
They just don't have as much popularity or as much social media love as kale.
Hopefully the point I made was clear about the research and kale. I write posts like this to help you get past the hype and confusion that most people have about health and fitness so you can make better decisions about what you eat and how you workout.
What You Should Actually Eat
As you try to eat healthier to live a longer and better life, remember to focus on adding a variety of fruits and vegetables to your day however you can.
Here are three powerful nutrition strategies to start with.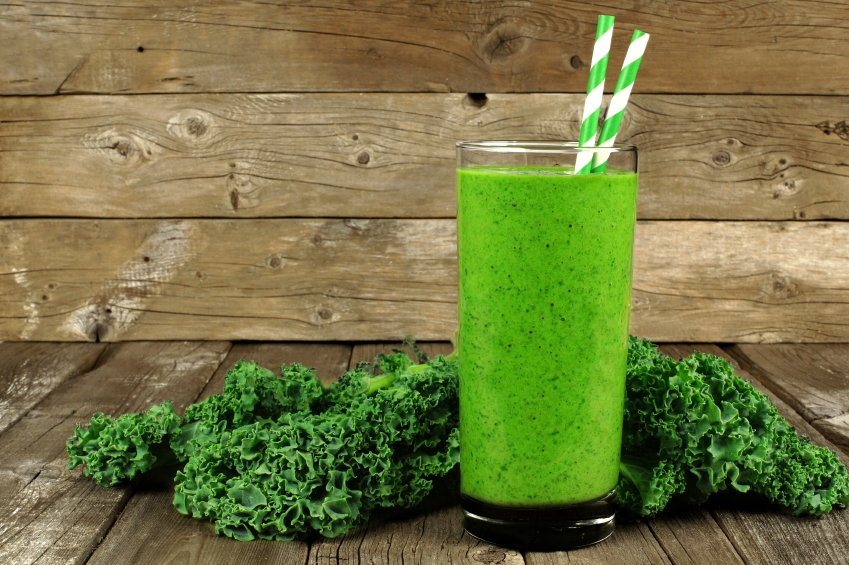 1. Kale is Still Good, So Eat It…Just Don't Go Crazy
Kale still packs a powerful nutritional punch because you can eat less of it than some of the other foods on the CDC's list and still get plenty of health-promoting, disease-preventing nutrients.
Just don't go crazy with kale. Very high intakes of cruciferous vegetables like kale and cabbage have been found to cause hypothyroidism in animal studies. This happens because of two reasons:
Reason #1: Ingestion of progoitrin, found naturally in cruciferous vegetables like kale, may yield a compound known as goitrin, which may interfere with thyroid hormone production.
Reason # 2: Ingestion of indole glucosinolates, which occur naturally in vegetables like kale, results in the release of thiocyanate ions that can compete with iodine for uptake by the thyroid gland.
Although the risk is minimal to humans according to a 2016 study published in the journal Nutrition Reviews, there was a case of an 88-year-old woman in China who was diagnosed with severe hypothyroidism with myxedema coma after eating 2-3lbs of bok choy every day for months in a misguided attempt to self-treat her diabetes.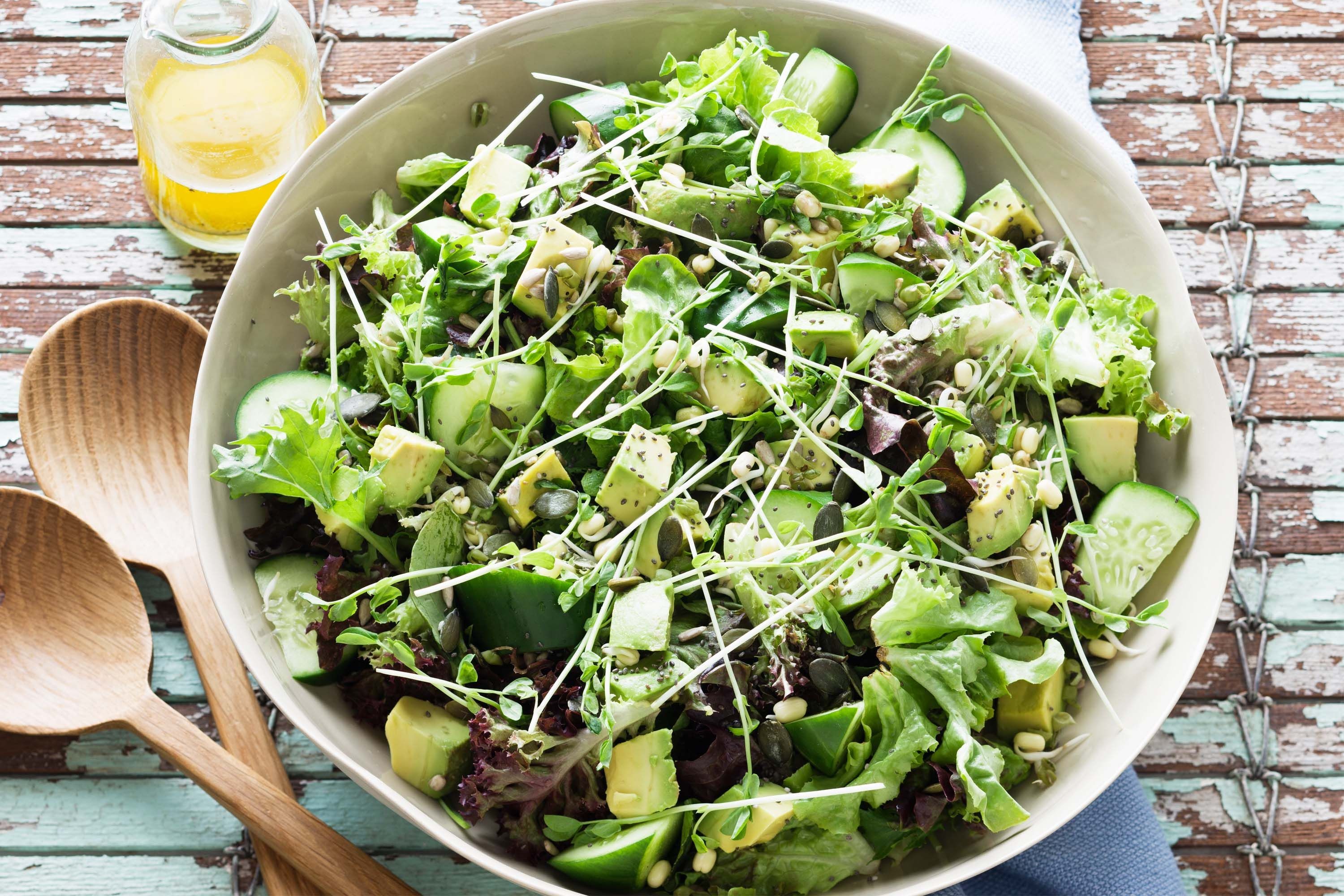 2. Eat More Powerhouse Vegetables
Stop falling for sexy marketing campaigns that promote one vegetable to the exclusion of others. Instead, make sure you eat a wide variety of vegetables on (and off) the powerhouse list.
That way you'll avoid potential issues with overdoing one food and you'll diversify the nutrients you'll be eating.
Although it's been recommended that you eat 5 servings of fruits and vegetables per day, 10 may be better number if warding off disease and optimal health are your goals.
A systematic review published in the International Journal of Epidemiology analyzed 95 studies on fruit and vegetable intake and their effects on health. They found that eating 10 portions of fruits and vegetables per day was tied to a:
24 percent reduced risk of heart disease.
33 percent reduced risk of stroke.
28 percent reduced risk of cardiovascular disease.
13 percent reduced risk of cancer.
31 percent reduction in premature death.
Although the studies analyzed were epidemiological studies, this is a strong piece of research worth considering.
If you're in the majority of the US public and struggle to get your fruits and veggies in daily, 5 a day might be a better starting point.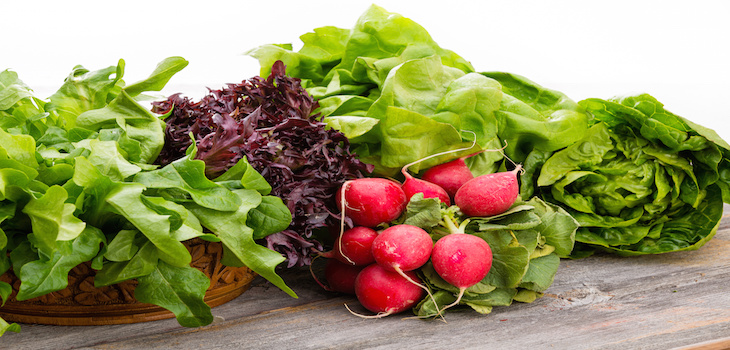 3. Fill Up On The Low-Calorie Powerhouse Foods
One of the benefits of a food like watercress, Chinese cabbage, Swiss chard, kale, etc. is that they have such low calories per cup that they are the perfect food to fill up on.
If you're hungry after eating your meal and feel the urge to get a second helping, having another serving of these low-calorie vegetables are ideal for filling you up without filling out your waistline.
And certain vegetables, like spinach, may have special appetite curbing properties.
I have this discussion with my clients in my Legendary Lean Coaching group. To lose weight you don't necessarily need to eat less; you need to eat smarter.
But, I know that it isn't that appetizing to think about going for another helping of watercress salad compared to eating desert—but your body and your future self will thank you for it!
Conclusion:
Now you know that there is a scientific basis for "superfoods" and it has to do with nutrient-density.
Nutrient dense foods are nutritional powerhouses that load your body with vitamins, minerals and phytochemicals that will help to reduce inflammation, fight cancer, and boost your immune system according to research.
But, too often, we fall prey to clickbait nutrition articles promising us that there's one single food that with magical properties that will reverse aging and ward off disease.
The reality is a little bit more complex. While there are foods that have specific nutrients that may help with a specific condition, in general, you want to eat a wide variety of foods.
That way you'll avoid loading up on one nutrient while not getting enough of others.
Now it's time to try a handful of these superfoods by making a place for them on your plate today. Get ready to load your body with energy and nutrients for optimal health.
Want help becoming the healthiest, fittest, strongest version of yourself this year?
Most people know that exercise, eating well, and quality sleep are important for looking and feeling better. Yet they need help applying that knowledge in the context of their busy, sometimes stressful lives.
That's why we created our brand new training called "How To Burn Fat, Build Muscle And Transform Your Body Forever (Even If You're 30, 40, or 50)". This training is packed with everything you need to know to finally create that leaner, fitter, and healthier body that you've always wanted.
PLUS: If you stay until the end you get a special bonus: a 7-day body transformation template to drop up to 7 lbs in a week without starving or going crazy.